We are delighted to reveal the full list of winners for the inaugural Women in Governance, Risk and Compliance Awards.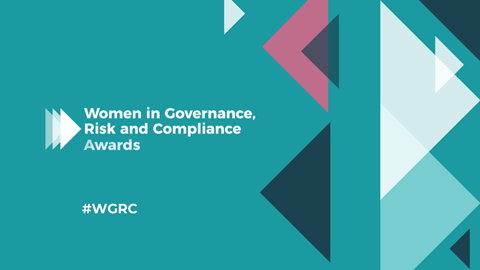 Across 17 categories, including GRC Rising Star Award, Head of Legal, Chief Privacy Officer and GRC Role Model, the winners were announced as the first ever award ceremony took place virtually on October 13th, 2021.
Launched by the GRC World Forums team, the Women in Governance, Risk and Compliance Awards – part of the wider Women in Governance, Risk and Compliance Series – has been designed to honour the women demonstrating excellence across GRC sectors and celebrate the organisations already showing leadership in gender equality in the industry.
The winners were determined by a panel of industry experts, including senior representatives from Coca Cola Company, NatWest, IBM UK, DMA, OneTrust, Chartered Institute of Information Security, and many more.
You can view the full list of winners below:
CEO of the Year

Julie Gaiaschi, Third Party Risk Association

Head of Legal of the Year

Cynthia Kapoor, Asendia UK

CISO of the Year

Mel Migriño, Meralco

GRC Ambassador of the Year

Christina Stevenson, CyberCX

Chief Risk Officer of the Year

Yvonne Palm, African Reinsurance Corporation

GRC Role Model of the Year

Tayo Oyinlola, Weir Group

Chief Privacy Officer of the Year

Jennifer Ma, Hootsuite

GRC Innovator of the Year

Joanne Smith, TCC Group

Chief Technology Officer of the Year

Helen Johnson, Data Dynamics, Inc.

GRC Team of the Year

National Lottery Heritage Fund

Chief Compliance Officer of the Year

Heather McKee, Gamesys Group Plc

GRC Rising Star of the Year

Kriti Trehan, Netflix

ESG Officer of the Year

Kirsty Green-Mann, Burges Salmon LLP

GRC Graduate of the Year

Ruth Bayley, SureCloud

Head of Governance of the Year

Funmi Dele-Giwa, MFS Africa

GRC Woman of the Year

Adela Szakola, Bank of New York Mellon

Head of Financial Crime of the Year

Sujata Dasgupta, Tata Consultancy Services Ltd
On behalf of the whole team, we want to thank each one of you for your involvement in the 2021 Women in Governance, Risk and Compliance Awards, whether you're a judge, a partner or one of the 400+ applicants.
It's been an amazing year, and we can't wait to press on with our mission to continue to champion the amazing women across the globe in 2022!