FinCrime World Forum's global audience enjoyed a first day packed with sessions dedicated to the key issues driving the financial crime debate.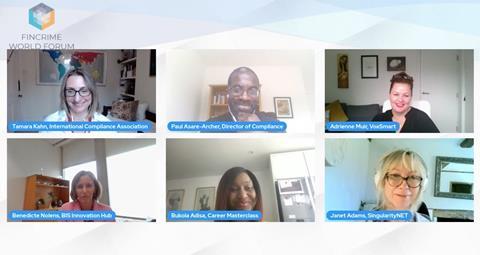 Australian lawyer, John Scanlon got the morning's talks underway with "A Talk on the Wild Side - A conversation on the Wildlife-FinCrime nexus", a presentation that drew upon Mr Scanlon's experiences of the global illegal wildlife trade.
Mr Scanlon underlined how the wildlife trafficking is underpinned by corruption at all levels of the private and public sectors, and explained how there are "about 150 countries implicated in wildlife crime and the illegal supply chains cross continents."
Mr Scanlon said:
"Recognising the financial aspects of wildlife crime has been slow. We don't have good analysis and knowledge of illicit financial flows. We are starting to understand the illicit flows of finance but we're still very much in the early stages."
Describing what action needs to be taken, Mr Scanlon said:
We need a global agreement on combatting illicit wildlife trafficking. What conduct should be criminalised? What are we going to do to engage with various sectors? What are we collectively trying to achieve? We need a strong and clear direction about where we're going with respect to inter-governmental process. Collaboration is key."
The following session, "Complying with Diversity Building an Inclusive Compliance Profession", brought together experts to explore the practical value that a diversity of skills and experience can bring to the execution of compliance and risk management.
Adrienne Muir, Chief Operating Officer at VoxSmart pinpointed the importance of being the change you want to see within the industry.
"We have a responsibility to take steps and to make things happen. We're all touched by these issues. For me it was about building a values-led organisation," Ms Muir said.
"This is about making sure that you're really making the change yourself, and you're not looking to others to do it for you. It's really important as a leader of a business to make sure that you're listening all the time," she added.
"When I started VoxSmart, I looked at flexible working to accommodate mums. We looked at flexible working for everyone. We ensured that we were focussed not only on policy, but on humanity. I've chosen to do something different in the way I approach business. When it comes to hiring for diversity, we have to learn as we go," she continued.
Measuring effectiveness in the fight against FinCrime also featured on the morning agenda, with "Moving the Needle - Defining, measuring, and improving FinCrime effectiveness," a panel debate chaired by John Cusack, Chair, Global Coalition to Fight Financial Crime.
What "effectiveness" means within FinCrime is the subject of much discussion. The Financial Action Task Force (FATF) has, so far, set the global standard by taking a subjective approach – assessing "how well" businesses reach regulatory compliance.
However, the US federal government's Financial Crimes Enforcement Network (FinCEN) advocates a metrics-led strategy through a programme that delivers 'useful' Suspicious Activity Reports (SARs) – financial intelligence that materially helps law enforcement investigations.
Defining effectiveness, Gemma Rogers, Co-founder, FINTRAIL, said:
"For me effectiveness really comes into play in the FinTech world, so notions of efficiency and effectiveness are at the heart of most products, and therefore at the heart of anti-FinCrime programmes, too.
"Being compliant has become the goal, rather than taking an innovative approach to managing controls. A shift to effectiveness, defined as doing the right thing for the right reason, rather than focusing on a tick-box exercise, is what we need to be seeing.
Geraldine Lawlor, Global Lead Partner for Financial Crime, KPMG LLP, explained how financial crime must be understood as "a global problem" which has in the past been addressed at local levels.
Daniel Thelesklaf, Director, Finance Against Slavery and Trafficking, UN University – Centre for Policy Research, said:
"FATF [the Financial Action Task Force] have made a major step forward over the last ten years. No other global standard is trying to assess effectiveness of implementation. The fact the FATF has dared to do this, and has agreed on a standard, I've never seen that before.
"I strongly agree we could do better, and that we need more outside views on this discussion. I think we need more transparency to the process to avoid misunderstanding, and we should be more inclusive, having more countries at the table playing by the rules."
Deep-dive talks continued through the afternoon in sessions that explored the roles of compliance and Regulation Technologies (RegTech) in the fight against financial crime.
"Cultural Capital – Can we Achieve a Positive FinCrime Compliance Culture?", saw panellists debate the challenges that lie ahead in this domain.
Eric Young, CEO – Young Enterprises LLC and former CCO – BNP Paribas Americas, Young Enterprises LLC, said:
"Without clear roles and responsibilities, we're going to continue to have broken promises and a lack of accountability. In the US, there aren't enough incentives for management to take on new technologies. There's no consequence, no technology and so things aren't going to change.
"A strategy for change has to be long-term. To start making positive shift, we need to hold management more accountable and make them more long-term focussed," he added.
Natasha Vernier, Co-founder and CEO, Cable, said:
"Real change needs to come from technological and regulatory innovation. At the moment, when customers are onboarded, people are aware that very few tasks worked may be reviewed. If they make a mistake there's a very low chance that that mistake will be picked up.
"If we can use tech to change how we think about how financial crime is done and tested and assured, then we can move to a positive incentive culture, where it's not a fine or a sanction for getting something wrong, but it's a positive outcome for doing something right," she added.
Missed a session? No problem - all sessions will be available on demand on grcworldforums.com