Webinar produced by GRC World Forums in association with The DPO Centre
Webinar Summary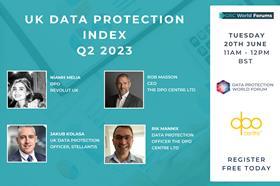 Tuesday, 20th of June
Event Timings:
BST: 11:00 am - 12:00 pm
Format: 45 minute presentation, 15 minute live audience Q&A
Each quarter the Index provides a glimpse into the changing attitudes and sentiments of Data Protection Officers across the UK. The panel of DPOs are quizzed every three months on a consistent set of questions, allowing us to closely track shifting views and opinions. New questions are also added each quarter, gathering further insight into DPOs' views on the very latest issues being faced by UK Data Protection Officers.
Meet the Speakers
Rob Masson
CEO, The DPO Centre
As founder and CEO of The DPO Centre, Rob is actively driving innovation, transformation and thought leadership in data protection and privacy. With over 30 years of business experience, Rob has been involved in delivering solutions to some of the world's largest and most respected organisations. Supported by the DPO Centre's large team of privacy professionals, Rob advises on evolving data protection legislation and how, when implemented well, compliance builds trust, confidence and loyalty.
Rik Mannix
Data Protection Officer, The DPO Centre
A highly qualified and experienced Data Protection Officer (DPO) and Privacy Technologist, working to monitor, advise and influence compliance and best practice. Rik has a track record of successfully applying Data Protection and Information Security frameworks to business operations and possesses the ability to provide valuable guidance and insights into the impact technology can have on individuals.
Níamh Melia
DPO, Revolut UK
Jakub Kolasa
UK Data Protection Officer, Stellantis
Jakub is currently the Data Protection Officer at Stellantis Financial Services UK. He began his adventure with privacy in 2021. Before that, he fulfilled various roles in Internal Audit and Operational Risk Management in global banking and automotive finance companies.