Webinar produced by GRC World Forums in association with The DPO Centre
Webinar Summary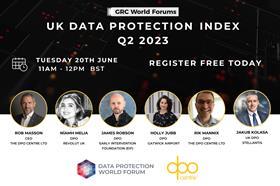 Tuesday, 20th of June
Event Timings:
BST: 11:00 am - 12:00 pm
Format: 45 minute presentation, 15 minute live audience Q&A
Each quarter the Index provides a glimpse into the changing attitudes and sentiments of Data Protection Officers across the UK. The panel of DPOs are quizzed every three months on a consistent set of questions, allowing us to closely track shifting views and opinions. New questions are also added each quarter, gathering further insight into DPOs' views on the very latest issues being faced by UK Data Protection Officers.
Meet the Speakers

Rob Masson
CEO, The DPO Centre
As founder and CEO of The DPO Centre, Rob is actively driving innovation, transformation and thought leadership in data protection and privacy. With over 30 years of business experience, Rob has been involved in delivering solutions to some of the world's largest and most respected organisations. Supported by the DPO Centre's large team of privacy professionals, Rob advises on evolving data protection legislation and how, when implemented well, compliance builds trust, confidence and loyalty.
Rik Mannix
Data Protection Officer, The DPO Centre
A highly qualified and experienced Data Protection Officer (DPO) and Privacy Technologist, working to monitor, advise and influence compliance and best practice. Rik has a track record of successfully applying Data Protection and Information Security frameworks to business operations and possesses the ability to provide valuable guidance and insights into the impact technology can have on individuals.
Níamh Melia
DPO, Revolut UK
Jakub Kolasa
UK Data Protection Officer, Stellantis
Jakub is currently the Data Protection Officer at Stellantis Financial Services UK. He began his adventure with privacy in 2021. Before that, he fulfilled various roles in Internal Audit and Operational Risk Management in global banking and automotive finance companies.
James Robson
Data Protection Officer, Early Intervention Foundation (EIF)
James Robson is the DPO for The Evidence Quarter (EQ) and named DPO for What Works for Early Intervention and Children's Social Care (WWCSC), The Centre for Evidence and Implementation (CEI), and Transforming Access and Student Outcomes in Higher Education (TASO) dealing with high volume, high pressure complexity for data protection practices liaising & negotiating with UK Government Depts., Local Gov., Universities, Schools, Research Orgs., Ethics Committees, Charities in the UK and globally.
Holly Jubb
Data Protection Officer, Gatwick Airport
Holly has been working in Data Protection for the last 7 years. She is currently the Data Protection Officer for Gatwick Airport. Having joined just before Covid she has navigated the choppy waters of influencing culture change in an organisation suffering a significant impact on its operations. Her previous roles including creating the data protection and compliance function at the charity WaterAid and prior to that, she worked in investigation and compliance for organisations such as the Metro