Each quarter the Index provides a glimpse into the changing attitudes and sentiments of Data Protection Officers across the UK.
WEBINAR SUMMARY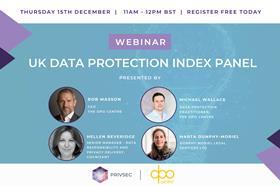 Date: 15 December 2022
Time: 11am - 12pm BST
Title: UK Data Protection Index Panel
Format: 45 minute presentation, 15 minute live audience Q&A
The panel of DPOs are quizzed every three months on a consistent set of questions, allowing us to closely track shifting views and opinions. New questions are also added each quarter, gathering further insight into DPOs' views on the very latest issues being faced by UK Data Protection Officers.
Meet the Speakers:
Rob Masson
CEO, The DPO Centre
As founder and CEO of The DPO Centre, Rob is actively driving innovation, transformation and thought leadership in data protection and privacy. With over 30 years of business experience, Rob has been involved in delivering solutions to some of the world's largest and most respected organisations. Supported by the DPO Centre's large team of privacy professionals, Rob advises on evolving data protection legislation and how, when implemented well, compliance builds trust, confidence and loyalty.
Michael Wallace
Data Protection Practitioner, The DPO Centre
Michael is a certified Data Protection Practitioner who brings a depth of experience to the DPO Centre. This includes his multifaceted experience in the trade union, financial services, retail, telecoms, advertising, higher education and media sectors. Michael's expertise, coupled with his innate proven ability in leadership and project management, adds yet another dimension to the rich resource within our DPO team.
Hellen Beveridge
Senior Manager - Data Responsibility and Privacy Delivery, Cognizant
Expertise in implementing data protection compliance procedures within an operational environment across wide range of organisations. Adept at embedding improved risk management frameworks and processes into business, maintaining records, and utilising data transfer protocols. Demonstrated ability to manage any privacy breaches by identifying root causes, mitigating risks, and preventing reoccurrence.
Marta Dunphy-Moriel
Dunphy-Moriel Legal Services LTD
Multilingual international privacy lawyer and DPO. She was a partner at Kemp Little and Deloitte Legal (London) up to 2021 and is now part of the exciting consulting world. She specialises in all areas of data protection and privacy. Marta's deep sector knowledge and a decade of international experience allow her to work with pan-European and global businesses to achieve compliance.