The UK Data Protection Index is produced by Data Protection World Forum and The DPO Centre.
WEBINAR SUMMARY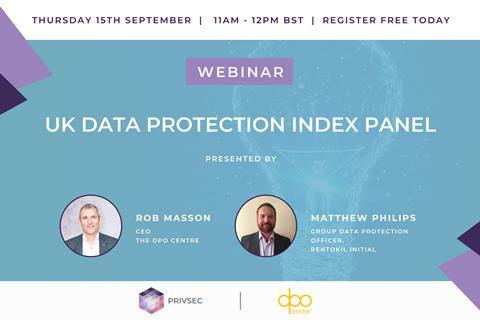 Thursday 15 September 2022
Event Timings:
BST: 11am - 12pm
Each quarter the Index provides a glimpse into the changing attitudes and sentiments of Data Protection Officers across the UK. The panel of DPOs are quizzed every three months on a consistent set of questions, allowing us to closely track shifting views and opinions. New questions are also added each quarter, gathering further insight into DPOs' views on the very latest issues being faced by UK Data Protection Officers.
Meet the Speakers:
Rob Masson
CEO, The DPO Centre
As founder and CEO of The DPO Centre, Rob is actively driving innovation, transformation and thought leadership in data protection and privacy. With over 30 years of business experience, Rob has been involved in delivering solutions to some of the world's largest and most respected organisations.
Supported by the DPO Centre's large team of privacy professionals, Rob advises on evolving data protection legislation and how, when implemented well, compliance builds trust, confidence, loyalty and engagement.
Matthew Philips
Group Data Protection Officer, Rentokil Initial