Webinar produced by GRC World Forums in association with Exterro
Webinar Summary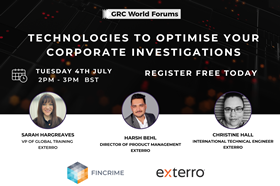 Tuesday, 4th of July
Event Timings:
BST: 2:00 pm - 3:00 pm
Format: 45-Minute Presentation & 15-Minute live audience Q&A
Investigations are getting more and more complex. Nowadays, organisations must collect, process and review large amounts of data across a wide variety of devices and formats in order to establish the facts of a case. This change has not been brought through the luxury of greater staffing or technology budgets. In fact, if anything, these have tightened, with IT or investigative teams now needing to rely on less resources to achieve more, in a shorter time frame, with stricter regulatory or compliance concerns.
In this session, Exterro will be providing insight into the latest technologies that help organisations to handle complex investigations. Also on show is a sneak-peek into the new "FTK8" - the soon to be released innovation that will further streamline and optimise digital forensic investigations.
Meet the Speakers
Sarah Hargreaves
VP of Global Training at Exterro
Sarah is the VP of Global Training at Exterro. She previously worked in a criminal law practice, before moving over to forensics after working on a number of investigations which inspired her to change career path. Her journey continued with a number of roles in Digital Forensic Laboratories, primarily supporting law enforcement in Child Sexual Exploitation investigation and general crime. Sarah progressed to Laboratory Management and later into Training Management.
Harsh Behl
Director of Product Management at Exterro
Harsh is Exterro's Director of Product Management. Harsh brings a wealth of experience, knowledge, and technical skill sets, steering the vision and execution of our market-leading Digital Forensics and Incident Response (DFIR) technologies. Harsh has been instrumental in bringing to market the industry's latest innovations, including FTK Central and FTK advancement, which are set to change the shape of digital forensics as we know it.
Christine Hall
International Technical Engineer at Exterro
Christine is an International Technical Engineer for Exterro, the industry's first provider of Legal GRC software, unifies e-discovery, digital forensics and data privacy to drive successful, defensible outcomes for in-house legal, IT teams, privacy and law enforcement worldwide. Christine spent over 10 years' working at IntaForensics, and before has worked as a digital forensics investigator for QinetiQ, as well as other public sector organisations holding technical roles.