Each time a user device is authorized to access a company's network, the exploitable attack surface increases. IT professionals report that on average, their organizations use 750 endpoints on any given day, dramatically increasing where data can be downloaded, stored, or stolen.
WEBINAR SUMMARY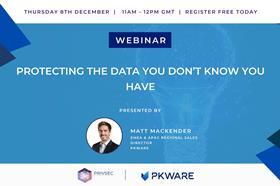 Date: Thursday 8th December

Time: TBC

Format: 45 minute presentation, 15 minute live audience Q&A
Remote work and "bring your own device" flexibility have only increased risk. Businesses need to find ways to protect all their data—even the data they don't know they have.

Join PKWARE data expert Matt Mackender for a deep dive into
- The frequency and risks of endpoint attacks
- How to look for data you didn't know you had in places you don't expect it to be
- Questions you need to be able to answer about your organization's sensitive data
Meet the Speakers:
Matt Mackender
EMEA & APAC Regional Sales Director at PKWARE
Matt Mackender is the Regional Sales Director at PKWARE Inc managing the EMEA territory. Matt has over 15 years of experience working in the industry and has a passion for helping customers solve complex data security requirements.