Ask anyone how much they love backup and you get the same response. Laughter. It doesn't have to be like that, especially if you're looking for the right solution to handle your on-premises and public cloud IT environments.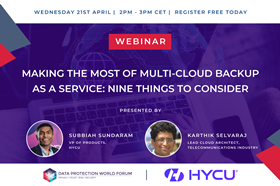 Webinar Summary
Event Timings:
BST: 1pm - 2pm
CET: 2pm - 3pm
Join us as we share the nine most important items you can address by finding the right multi-cloud backup as a service solution. One that helps with the following:
Runs as a cloud-native service
Able to protect, manage and recover data across platforms
Reduces the need for additional hardware or software to run
Eliminates unnecessary complexity
Meet the Speakers
Subbiah Sundaram
VP of Products, HYCU
Subbiah Sundaram is VP of Products at HYCU. For more than twenty-five years, Subbiah has focused on data storage, infrastructure management and backup and recovery, and he is now leading the way in delivering next-gen monitoring and data protection solutions as the VP Products at HYCU.
Prior to HYCU, he has held senior executive positions at BMC, CA, DataGravity, EMC and Veritas and has extensive experience in product development, planning and strategy. He holds a MS in Computer Engineering from the University of Iowa and an MBA from the Kellogg School of Management at Northwestern University.
Karthik Selvaraj
Lead Cloud Architect, Telecommunications Industry
Karthik is one of the early adopters of cloud who started using it at Amazon in 2007 when the first AWS service was launched. As a seasoned multi cloud practitioner with more than a decade of experience successfully leading several Cloud transformation programmes in Big Data Analytics, Micro services and API Management.
Karthik works closely with their Customer's Business, C-Level and D-Level stakeholders to make their vision a reality and to bring a step change in their business by effectively adopting cloud to build solutions that are secure, faster, cheaper and better.
Karthik is a professional certified architect in AWS and GCP and holds a Masters degree in Software Systems. In the past, has held various technology leadership roles at Cisco, Dell, Amazon Retail, Centrica, British Gas and Vodafone.