Organisations need an integrated strategy, process, information, and technology architecture to govern legal, meet legal commitments, and manage legal uncertainty and risk in a way that is efficient, effective, and agile.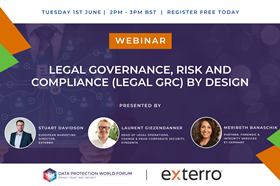 WEBINAR SUMMARY:
Tuesday 1st June
Event Timings:
Managing the complexity of business from a legal perspective while keeping continuous business and legal change in sync is a significant challenge for boards, executives, as well as the legal professionals in the legal department.
Join Exterro and industry experts as they discuss the recent report published by GRC 20/20 entitled Legal GRC Management by Design and explore:
Howthe CLO/GC's role is changing
The Legal GRC information and technology architecture
A framework of Legal GRC processes and adopting a holistic approach to legal governance and management
Meet the Speakers:
Stuart Davidson
European Marketing Director, Exterro
Stuart Davidson is the European Marketing Director at Exterro, the leading provider of e-discovery and information governance software specifically designed for in-house legal, privacy and IT teams at Global 2000 and Am Law 200 organisations.
With software solutions that span the full e-discovery lifecycle and support privacy and information governance initiatives, Exterro helps some of the world's largest organisations work smarter and more efficiently.
Laurent Giezendanner
Head of Legal Operations, Change & Head Corporate Security, Syngenta
Laurent Giezendanner has over 20 year's security experience and is the Head of Corporate Security based in Basel Switzerland. Syngenta is one of the world's leading company specialized in crop protection and seeds products, operating in more than 90 countries with 28,000 staff.
Laurent manages a team of 35 security professionals mainly based in key/high risk countries focusing on criminal detection, deterrence and response that could expose Syngenta people, tangible and intangible assets. This large scope of security programs including travel security, site security auditing, anti-cybercrime, reputation protection and anti-counterfeiting is deployed in an intelligence-led/risk based approach. Critical Success Factor to demonstrate actual deployment of security programs is the ability to measure the outcome of the great work done by Corporate Security team in front of Syngenta top management.
Before joining Syngenta Laurent was the Head of Corporate Security of Merck KGaA Group. Laurent holds a Master of Science in Security Management and is a certified Lean Six Sigma Green and Black Belt.
Meribeth Banaschik
Partner, Forensic & Integrity Services, EY Germany
Meribeth Banaschik is a partner in EY's Forensics & Integrity Services team. As an American litigator and Solicitor of England & Wales with more than 14 years of professional experience, including 10 years' experience in Germany, Meribeth is focused on analytics and applied technologies to isolate and address various risks facing modern global organizations, particularly legal risks. She focuses on the measurement and quality imperatives that impact defensibility and acceptance of technology and technology-driven results in a legal/investigative context.
In addition to leading the German eDiscovery and Managed Document Review practice, she is also responsible within Forensics for GDPR compliance projects, document intelligence and litigation operations.