Trust takes years to build, seconds to break, and forever to repair.
WEBINAR SUMMARY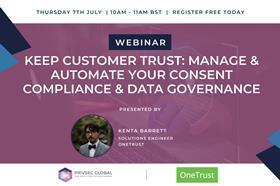 Thursday 7th July
Event Timings:
BST: 10am - 11am
Trust takes years to build, seconds to break, and forever to repair. Companies around the globe are challenged by increased regulation requirements, consumer expectations for privacy-first personalization, and managing consent and preferences through disparate marketing and sales platforms. So, how can you maintain consumer trust when collecting data on digital properties and honor choices through all your marketing and sales tools?
Join this webinar to learn how to set up a strong consent governance strategy to achieve privacy-first data capture, distribution, and activation.
Key Takeaways:
Understand how responsible data management and security remains a key buying factor, challenging organizations to adapt to and uphold privacy-centric data collection standards
Discover how to understand where collected data is syncing to and best practices to ensure it's being controlled in the right way in platforms such as CDPs, data warehouses, PETs, and more
Gain insight into leveraging consent and preference management to operate with a privacy-first approach to drive personalization, better segmentation, addressability, and brand loyalty
Meet the Speaker:
Kenta Barrett,
Solutions Engineer, OneTrust
Kenta Barrett serves as a Solutions Engineer at OneTrust, the Trust Intelligence Platform, unlocking every company's value and potential to thrive by doing what's good for people and the planet. OneTrust connects privacy, GRC, ethics, and ESG teams, data, and processes, so all companies can collaborate seamlessly and put trust at the centre of their operations and culture.