Becoming ISO 27001 certified demonstrates that your Information Security Management System (ISMS) is aligned with documented standards and provides your customers with assurance regarding the security of these systems.
WEBINAR SUMMARY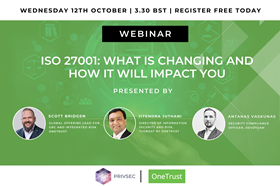 Date: Wednesday 12th October
Event Timings:
Time: 3.30 - 4.30pm BST
After the new iteration of ISO 27002 was published in February 2022, a revised version of ISO 27001 is imminent in the weeks to come. Join this webinar led by Scott Bridgen, Global Offering Lead for GRC and Integrated Risk at OneTrust, to understand what the advantages are of being ISO27001 certified and, if you already have the certificate, attend to learn how to best embrace the upcoming changes.
You will learn:
Best practices to embrace change in framework including how to communicate with line of business and how much information you must include
Key control changes and how that impacts your program
Elements to prioritise before your next audit
The role of technology and the benefits in both the short and longer term
Meet the Speakers:
Scott Bridgen
Global Offering Lead for GRC and Integrated Risk, OneTrust
Scott has spent over two decades in various roles across Risk & Compliance. With 9 years in Risk Management working in the Defence sector, 7 years in Ethics & Whistleblowing, through to working directly for GRC software vendors. Scott has experience working with customers of all sizes, from the beginning of their journey to mature strategic Risk & Compliance initiatives.
Jitendra Juthani
Director of Information Security and Risk, Tugboat by OneTrust
Jitendra Juthani serves as a Director of Information Security and Risk for Tugboat Logic by OneTrust. Jitendra has more than two decades of international experience in providing assurance and advisory services in the field of IT governance, risk and compliance, IT advisory, project assurance, third party assurance (SOC, ISO 27001, FedRAMP), regulatory compliance (SOX) and business continuity services to clients from diverse industries in Canada, the Middle East, and India.
Antanas Vaskunas
Security Compliance Officer, Devoteam
Devoteam is a leading consulting firm focused on digital strategy, platform technologies, cybersecurity and business transformations. Responsible for Devoteam Lithuania's Security and Compliance with years of experience working in the Information Technology and Digital Cybersecurity industries following a strong knowledge and background in Risk Management, Information Security Governance, Compliance and Regulation environments