Webinar produced by GRC World Forums in association with Exterro
Webinar Summary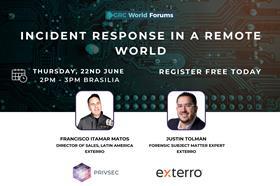 Thursday, 22nd of June
Event Timings:
2:00 pm - 3:00 pm Brasilia
Format: 45 minute presentation, 15 minute live audience Q&A
For many companies, incident response (IR) might simply be the end of the process when there is a breach. The importance of a proper incident response plan cannot be understated. But what might often be overlooked is forensics' role in incident response and its importance in strengthening a company's response! This presentation will talk about the forensic technologies and processes that can be leveraged in incident response to make your company more secure in the future.
Attend this webinar and:
Examine the different areas that forensics can be placed in
Discuss the specific processes and solutions forensics offers to IR
Explain how forensic and IR solutions can be directly connected for faster response
Review CISA's published playbook to establish a baseline since every countries' and company's incidentresponse (IR) playbook is a little different.
Meet the Speakers
Justin Tolman
Forensic Subject Matter Expert, Exterro
Justin Tolman is the Forensic Subject Matter Expert at Exterro. He was formerly the Director of Training for North America at AccessData prior to and after the acquisition by Exterro. Justin has been developing written and video programs and training AccessData clients worldwide for almost 6 years. He also consults with clients on investigations and problems related to forensic issues and procedures.
Francisco Matos
Sales Director LATAM, Exterro
Francisco has over 15 years of experience in the software industry managing Latin America as a region. Francisco is originally from Brazil and currently resides in the United States. Francisco has led Digital Forensics projects with some of the largest companies and government entities in Latin America.