Health organizations are working hard to safely leverage patient data across the care continuum to improve outcomes.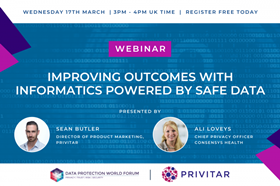 Webinar Summary
Event Timings:
Accessing this data in a safe manner is incredibly challenging and if the right process and technologies do not come together incredible value can be lost.
In this session learn how leading healthcare organizations are:
Accelerating informatics efforts with safe data
Protecting personal information with leading privacy enhancing technologies
Expanding the types of data available for use in analytics
Format: 45 minute presentation, 15 minute live audience Q&A
Meet The Speakers
Sean Butler
Director of Product Marketing, Privitar
As Director of Product Marketing, Sean leads core product messaging, go-to-market strategy, and analyst relations efforts inside of Privitar. Sean has almost a decade of experience working with start-ups in roles ranging from product management to enterprise sales to achieve incredible product adoption and growth. Prior to joining Privitar, Sean held roles in both product management leadership and sales at Validity Inc, a leading data quality provider. He Has a Bachelor's degree in Economics from Pennsylvania State University.
Ali Loveys
Chief Privacy Officer, ConsenSys Health
Dr. Loveys is a pioneer in emerging digital technologies in healthcare including electronic health records, health information exchange, digital health transformation, supply chain, and payment systems and models.
Prior to joining BTblock, Dr. Loveys led US Healthcare Blockchain for EY and was the Foundation Relationship and North America Market Lead at ConsenSys Health. She was in the inaugural class of United States medical board diplomates in clinical informatics. As such, her work bridges clinical, business, technology, policies, regulations, and standards within healthcare.