80% of data exists in unstructured format - in the emails, attachments and documents we work with daily. This opens the door to significant risks, particularly as employees use email to send and receive sensitive information.
Webinar Summary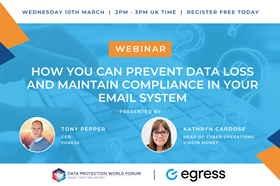 Wednesday 10th March
Event Timings:
GMT: 2pm - 3pm
The UK Information Commissioner's Office's own trends show that data exposed to unauthorised access has been the top cause of reported security incidents in 2020, and recent research into this problem shows that the average organisation experiences an email data breach every 12 working hours. This problem is only growing, with an even greater reliance on email by employees during the COVID-19 pandemic.
Hear from Tony Pepper, CEO, Egress and Kathryn Cardose, Head of Cyber Operations at Virgin Money as they discuss the risks that enterprises face from email, and the strategies you should be taking to prevent security incidents.
Join this webinar to learn:
How to identify and map the operational and other risks in your organisation, especially those linked to email use
What are the threats and what has been the impact of COVID-19 and remote working on email security
Key considerations for remediating risks to unstructured data, including technological controls
Format: 45 minute presentation, 15 minute live audience Q&A
Meet The Speakers
Tony Pepper
CEO, Egress
Tony Pepper co-founded Egress in 2007 and currently serves as Chief Executive Officer (CEO) for the company. Tony has overseen the company's rapid expansion, driving innovation and worldwide sales.
Pepper has an in-depth understanding of the data security market and prior to Egress held executive management and integration roles at Reflex Magnetics Ltd, Pointsec Mobile Technologies, and Check Point Software Technologies.
Over the years, he has presented on a variety of data security-related issues and strategies for mobile computing and best practices surrounding secure data exchange. Pepper holds a Bachelor of Arts honours degree in Politics from Nottingham Trent University. He also holds a Masters degree in Software Engineering from Liverpool University.
Kathryn Cardose
Head of Cyber Operations, Virgin Money
Kathryn has worked in financial services for 15years within technology, with 8 years specialising in many facets of Cyber Security. She now leads Operational Security within Virgin Money.
Kathryn is passionate about equality and diversity in general but also specifically within the cyber security sector where she often finds herself in the minority. With this passion behind her she has co-founded the North East Ladies Hacking society which seeks to provide a welcoming and non-judgemental environment for those who wish to start a career in cyber or those who wish to give back and develop their career and skills further