The increasing number and complexity of privacy laws have been the driving force for organisations to shift focus from tick-the-box compliance exercises to automated privacy solutions.
Webinar Summary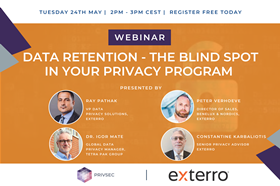 Tuesday 24th May
Event Timings:
BST: 1pm - 2pm
CEST: 2pm - 3pm
To maintain consumer trust and avoid brand damage due to costly data breaches, companies must implement integrated data governance principles and procedures. Given the amount of data that businesses collect, process and store, as well as the speed at which that data is managed, effective and efficient human and technology systems must be implemented to avoid any personally identifiable information breach.
According to a survey by the ACC, privacy technology and breach management software is among the top three priorities of in-house counsel to maintain defensibility and GDPR compliance. However, understanding and maintaining up-to-date data retention strategies is one of many obstacles privacy professionals deal with and is often the blind spot in the privacy program. How can organisations integrate enforcement of policies like data retention, data minimization, access requests, etc. across the organization's IT ecosystem?
Join this webinar to learn about:
• The risks of failing to operationalize data retention programs
• Existing and emerging data retention obligations in the context of GDPR
• Creating a more collaborative, software-driven process for security and privacy teams to work effectively together.
Meet the Speakers:
Ray Pathak
VP Data Privacy Solutions, Exterro
Ray Pathak is Exterro's VP of Data Privacy Solutions and leads the company's privacy solutions strategy. Ray has been involved in the privacy space for over 15 years as a privacy operations leader and privacy software business executive. Ray brings with him a vast amount experience and thought leadership to Exterro. Prior to joining Exterro, Ray led Nymity as COO, leading all areas of the business. Prior to Nymity, he led the Privacy and Information Security program for Target Canada. Ray holds a Bachelor of Commerce degree from Ryerson University in Toronto, Canada and holds a Fellowship of Privacy certification from IAPP.
Dr Igor Mate
Global Data Privacy Manager, Tetra Pak Group
Dr. Mate is the data privacy head of Tetra Pak, the world's number one food packaging company, operating in 160 countries with over 25,000 employees. Previously, Dr. Mate was the Group Data Protection Manager of Norsk Hydro Extrusion, the world leader aluminium solutions company. He also held numerous legal and compliance management positions at large European financial institutions, like Provident Financial, Intesa San Paolo and Bayerische Landesbank and was senior associate to the UK based global law firm CMS Cameron McKenna.
Dr. Mate has a master's degree in law from the ELTE University (Hungary), he also studied International Business Relations at Tufts University (USA) and European Affairs at Leiden University (The Netherlands). He is member of the International Association of Privacy Professionals, the European Association of Data Protection Professionals, and co-Chair of Stockholm PrivacyConnect.
Peter Verhoeve
Director of Sales, Benelux & Nordics, Exterro
Peter Verhoeve is Sales Director Benelux & Nordics at Exterro and based in The Netherlands.
He has a track record of 20+ years in Finance and IT Consulting, GRC, FinTech and LegalTech supporting Public Sector and Corporations. He's passionate about supporting these organizations to help streamlining, optimizing and automating their processes.
Constantine Karbaliotis
Senior Privacy Advisor, Exterro
Constantine Karbaliotis is counsel at nNovation LLP, a boutique privacy law firm in Canada. Constantine has nineteen years' experience in privacy, on both domestic and international levels. Constantine has fulfilled numerous roles in privacy, first and most recently as a consultant; Constantine has also acted as privacy officer and leader for two multinational organizations, where he managed the company's internal compliance and the development and implementation of privacy programs, dealing with diverse areas of international privacy and data protection.
nNovation LLP is a virtual law firm with lawyers in Ottawa and Toronto delivering premium legal advice for a select group of clients, including leading businesses large and small, public sector bodies, industry associations, and law firms in other countries looking for Canadian expertise.