Data Retention and disposal requirements have been long oversimplified or underestimated and put aside by controllers to focus on other priorities of their Data Protection programs.
WEBINAR SUMMARY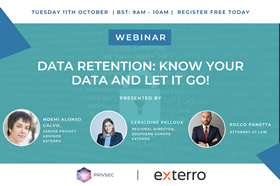 Tuesday 11th October 2022
Event Timings:
BST: 9am - 10am
The infamous line "we will keep your data for as long as it is needed" is frequently found in privacy notices in websites. Records of Processing Activities (ROPAs) have been often created in a rush and are not as complete as they could be.
It is time for controllers to review their ROPAs and to bring consideration to retention. Even better, to systematise and automate the way they manage data disposal. There are plenty of collateral benefits to doing this: new or reviewed ROPAs, improved readiness to DSAR and better intelligence and damage control when Data Breaches occur.

Join this webinar to learn about:

● The risks of failing to operationalise data retention programs
● Existing and emerging data retention obligations in the context of GDPR
● Creating a more collaborative, software-driven process for security and privacy teams to work effectively together.
Meet the Speakers:
Geraldine Pelloux
Regional Sales Director, Southern Europe, Exterro
A strategic sales director with a +25 years sales experience specializing in high-tech fast growing software companies. More than 20 years of experience in SaaS & Cloud business. Proven experience in winning in global & complex companies, building mutually successful and trusted business relationships with CXOs.
Noemí Alonso Calvo
Senior Privacy Advisor, Exterro
Noemí is a Spanish qualified lawyer with over 20 years of Privacy experience. She started her career in top-tier Law Firms (Clifford Chance, DLA Piper, Allen & Overy) in Madrid, to then move on to being an in-house Privacy Lawyer at J&J also in Madrid, where she had a regional role.
Rocco Panetta
Attorney at Law
Rocco Panetta, CIPP/E, Attorney at Law admitted to the Italian Highest Courts, founder and managing partner of PANETTA Law Firm, is internationally recognised as one of the leading experts in the field of law applied to new technologies, Internet, Privacy, Cybersecurity and Environmental Law.