Webinar produced by GRC World Forums in association with Exterro
Webinar Summary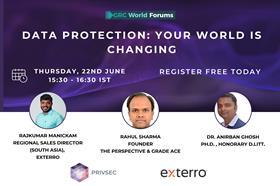 Thursday, 22nd of June
Event Timings:
IST: 15:30 - 16:30 IST
With new data regulations for many companies, aligning business processes with the proposed legislation requires new enterprise infrastructure and radical changes to processes. But one thing is certain, Businesses need to follow four crucial steps to establish a comprehensive, legally defensible data protection program to comply with the new law. And the glue binding it together is a technology that leverages AI and deep learning.
This webinar will help you understand how you can leverage technology to be compliant with privacy laws using technology for:
Maintaining a defensible data inventory
Manage data subject access requests
Data retention and minimization
Meet the Speakers
Rahul Sharma
Founder, The Perspective & Grade Ace
Rahul is founder – The Perspective & Grade Ace with over twelve years of experience working in Technology, Public Policy, Cyber Security & Data Protection space, engaging with a range of stakeholder locally and globally to address the challenges in the evolving cyber ecosystem & value add as a Trusted Advisor.
Rajkumar Manickam
Regional Sales Director (South Asia), Exterro
An MBA graduate with computers background, Rajkumar Manickam is a Regional Sales Director (South Asia) at Exterro. Exterro Inc. is the only software provider offering a comprehensive Legal Governance, Risk and Compliance (Legal GRC) software platform to automate the complex interactions of Legal Operations, Data Privacy and Digital Investigations.
Dr. Anirban Ghosh
Ph.D. , Honorary D.Litt.
Dr. Anirban Ghosh is a notable up-and-comer in the data privacy space, with extensive experience working in numerous departments in BT Group, but most recently in Data Compliance & Assurance function as Data protection officer for Asia, Middle east, and Africa since last year. It is key to highlight that Anirban is the BT Group subject matter expert in data privacy within the AMEA region together with being a leading expert in Cyber Security, Data compliance culture, training, and education.