Webinar produced by GRC World Forums in association with Exterro
Webinar Summary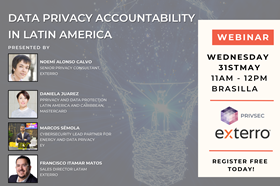 Thursday, 31st of May
Event Timings:
12:00 - 1:00 PM Brasilia Time
Format: 45-minute presentation, 15-minute live audience Q&A
Data protection compliance is a key consideration for any organization doing business in Latin America (LATAM). Most LATAM countries have a relatively strong data protection framework. But the legal requirements vary, in some cases significantly, from country to country.
This webinar will discuss how more and more LATAM countries are driven towards accountability models and what building a privacy program, incorporating accountability, can look like. We'll explore the principles, requirements, and data rights established under different country's data protection laws—and look at some of the recent regulatory activity to help you understand how the law is being enforced.
The panel will also discuss how technology can help you overcome the key data protection challenges presented by the LATAM region's compliance regime.

Join this webinar to learn:

- How LATAM countries are driven towards accountability
- How to build your data privacy program incorporating accountability
- How technology can help you
Meet the Speakers


Noemí Alonso Calvo
Senior Privacy Consultant at Exterro
Noemí is a Spanish qualified lawyer with over 20 years of Privacy experience. Her experience within Privacy goes from regulated sectors such as the pharma world, to new technologies, AI, telecommunications, digital transformation, data transfers, DPIAs, anonymization, etc. She is CIPP/E certified. Also, certified by the SCCE as a Compliance professional. Noemí speaks 6 languages, has written many articles on Privacy and is a frequent speaker at Privacy conferences internationally.
Daniela Juarez
Counsel Privacy and Data Protection Latin America and Caribbean at Mastercard
Daniela has a Master's degree in Law. She has held various positions in the Privacy and Data Protection field for over 10 years, placing her as one as a pioneering in-house DPO in the LATAM region. Daniela has built her expertise working in highly regulated, world-class companies in Tech, Big Pharma and Fintech. She currently works at Mastercard as Privacy Counsel for Latin America and the Caribbean.
Marcos Sêmola
Cybersecurity Lead Partner for Energy and Data Privacy at EY
MARCOS SEMOLA CISM® CIPM® CDPSE® PCI-DSS® PDPP® ISO27K®LA EY Cybersecurity Lead Partner for Energy and Data Privacy; governance, risk and compliance specialist with 33+ years of experience and stints at Schlumberger, Atos and Shell in Brazil, England and Holland; 25+ years MBA professor at FGV and Dom Cabra busiest schools, advisor to ISACA, ABINC IoT Association, AMCHAM-BRA and the SmartCity Institute, member of IAPP, founding member of the Cybersecurity Enterprise Council Brazil,
Francisco Itamar Matos
Director of Sales, Latin America at Exterro
Francisco has over 15 years of experience in the software industry managing Latin America as a region. Francisco is originally from Brazil and currently resides in the United States. Francisco has led Digital Forensics projects with some of the largest companies and government entities in Latin America.