Based on the findings from 2021 Thales European Data Threat Report, the global pandemic has had a significant impact on data security with accelerated cloud migration and increased remote working.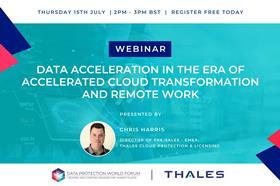 WEBINAR SUMMARY
Thursday 15th July
Event Timings:
BST: 2pm - 3pm
CET: 3pm - 4pm
Many organisations were unprepared for these security challenges. In fact, according to the report only 22% of IT professionals said their security infrastructure was very prepared for the effects of the pandemic. Even with the challenges over the past year, security professionals were already adapting to secure and protect access to data in the cloud. According to the report, 83% of IT security professionals are concerned about the security risks of employees working remotely and nearly half reported an increase in cyberattacks over the past 12 months.
Conducted by 451 Research, discover what your industry peers have reported, what they are doing, and what 451 Research, our research partner, recommends to better protect your organisation.
This webinar will review the changing landscape of data security risks and threats, especially those due to the acceleration of cloud migration and remote working due to the pandemic. Specifically, you can expect to learn about:
Leading sources of data threats
Trends in the adoption of Zero Trust strategies across organisations
Top security investments to secure sensitive data in cloud and remote working
Cloud migration trends and most effective security controls
Future security threats, including quantum computing
Meet the Speaker:
Chris Harris
Director of Pre-Sales - EMEA, Thales Cloud Protection & Licensing
Chris Harris has over twenty-five years' experience in IT Security with a strong track record providing expert consultancy, pre-sales support and technical assistance to customers across EMEA, in addition to developing and leading a large pan-EMEA team of Pre-Sales Consultants and Sales Engineers. With a strong technical focus on data and information protection solutions, Chris can talk very knowledgably on a vast range of Cybersecurity, Identity Management, Cloud Encryption & Security as well as Cloud Security and Security-as-a-Service offerings. He plays a key role in managing customer and partner relationships across the region, as well as scaling the team, ensuring it has the structure and skills in place to solve problems for customers and respond to market needs
Having joined Thales through its recent acquisition of Gemalto, Chris previously managed the cyber-security pre-sales organisation across EMEA. He has over 15 years' experience in the group through various company acquisitions that has seen his EMEA Pre-Sales role evolve as the product portfolio grew significantly. With a passion for technology, he keeps acquainting himself with the technical detail, often feeding back the field experience to product management to help advance offerings. He has been pivotal in developing a strong pre-sales technical team across EMEA all equally as passionate for customer excellence. He brings with him a wealth of experience spanning: Hardware Security Modules (HSM), PKI & Digital Certificates, Smart Cards, Tokens, Network Encryption, Database Encryption, Storage Security/Encryption, Cryptographic Hardware and Software.
Chris holds a Bachelor of Science degree from the University of Herfordshire.
You can connect with Chris on LinkedIn.