Webinar produced by GRC World Forums in association with OneTrust
Webinar Summary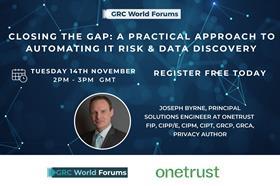 Tuesday, 14th November
Event Timings:
GMT: 2:00 pm - 3:00 pm
Format: 45 minute presentation, 15 minute live audience Q&A
Data is your most valuable asset, but the speed and scale of data presents a risky reality. How can InfoSec leaders be data centric to work to close the gap between Known-knowns and unknown-unknowns? Leverage IT risk and data discovery to enhance visibility without losing context to inform action. Organizations can bypass stop-gaps to mitigate impact without disrupting the rhythm of business.
Meet the Speaker
Joseph Byrne
Principal Solutions Engineer, OneTrust FIP, CIPP/E, CIPM, CIPT, GRCP, GRCA, Privacy Author
Joseph Byrne serves as Principal Solutions Engineer at OneTrust, the Trust Intelligence Platform, unlocking every company's value and potential to thrive by doing what's good for people and the planet. In his role, Joseph supports the OneTrust Privacy & Data Governance Cloud where he advises companies on how to transform privacy compliance into trusted and ethical data use. Joseph earned a degree in Engineering at the University of Leeds and holds a FIP, CIPP/E, CIPM, CIPT & GRCP.