Next month, GRC World Forums will kick off Tuesday 22nd June with the first day of two live and on-demand livestream experiences.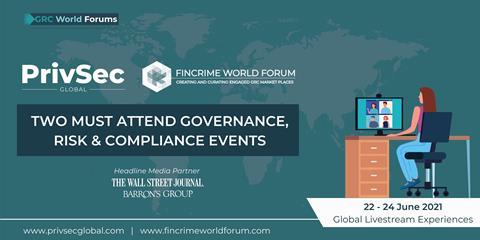 PrivSec Global and FinCrime World Forum between them will feature 220+ subject matter experts, across 90+ sessions producing over 75 hours of insightful and informative content available to you live and on-demand. Here is a brief overview of the events, with the joint registration form linked below.
PrivSec Global - 22-24 June + on-demand
The leading data protection, privacy and security event is back for another 3-day livestream experience and will feature a series of brand-new topics and themes, as well as everything you would expect from what has been described as; 'one of the must-attend events for privacy, data protection and security professionals in the world."
The largest data protection, privacy and security livestream conference

Hear the views of worldwide data protection regulators on the future of privacy laws and regulations

Understand the current and future threats to your organisation and how to implement prevention strategies

Train your staff, and help mitigate the risk of reputational and financial damage

Earn up to 70 CPD / CPE points and help demonstrate your professional development in the field of data protection, privacy, and security.

Ease the strain on your team by accessing the latest compliance technology

Get your questions answered by over 210 global expert speakers
FinCrime World Forum - 22-23 June + on-demand
FinCrime World Forum brings together a globally engaged audience to discuss, challenge, debate and address how we can make the world a safer place. Staying informed, connected and part of the solution has never been so important.
Hear first-hand insights from industry thought-leaders and visionaries

Join the debate on the industry's biggest challenges including wildlife trafficking

Gain advice from industry experts from leading organisations including the Financial Conduct Authority, Europol, Financial Times, and the Global Coalition to Fight Financial Crime on how we can make the world a safer place

Deep-dive into Virtual Assets, RegTech, and the Effectiveness on Tackling FinCrime

Stay ahead of increasingly diverse and Global Regulation

Access 29 hours of content free of charge, both live and on-demand and engage with global peers

Earn up to 29 CPD points

Get your questions answered by our 60+ global expert speakers

Access over 25 keynotes, panel discussions and debates live or on-demand, to suit your own schedule
You can register for both at the same time here: