Burkhard Mühl is the head of Europol's new European Financial & Economic Crime Centre and a speaker at FinCrime World Forum in June. Weeks after an influential Europol report shed light on the complexity and scale of laundering in Europe, he tells GRC World Forums of his plans to step up the fight against financial crime.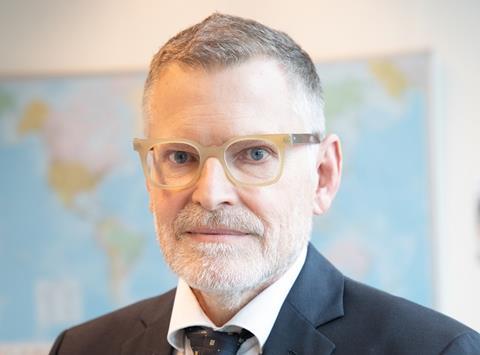 Europol's latest Serious and Organised Crime Threat Assessment (SOCTA) in April made sombre reading for anybody committed to tackling financial crime in Europe.
The latest version of the detailed report, which is published every four years, found that money laundering is more widespread and more complex than previously thought. Professional money launderers have established a parallel system of financing that operates underground, the detailed analysis found.
The SOCTA made headlines around the world and next month Burkhard Mühl, head of the newly formed European Financial & Economic Crime Centre at Europol, will discuss the issues raised by the report and more, in an appearance at FinCrime World Forum.
Before that though GRC World Forums caught up with Mühl to get a taste of what to expect at the event.
We kick off by talking about the why money laundering is such a concern when it comes to organised crime.
"I think we are not where we want to be because money laundering is not only still happening, it is growing," says Mühl. "It has a massive impact on organised crime and helping it to get stronger because they enjoy the profits."
Mühl is pretty scathing about current performance of authorities when it comes to seizing the proceeds of crime.
"We are not really successful in tracing and confiscating the criminal proceeds. We published a 2016 study, where we estimated that roughly, in the European Union, we confiscated by court decision 1.1% of the criminal proceeds, Mühl says. He says that he wants to see focus to try and drive this number up. He believes the new European Financial & Economic Crime Centre he heads up can play a huge role in doing this.
And what of the SOCTA's finding that money laundering has been effectively underestimated?
Mühl stresses that this has bene because the authorities now have a much clearer view of what is happening then they did four years ago when the last SOCTA was published, including the use of technology by criminals to network.
He says: "The level we see today is even higher than what we expected so there's more, more evidence of what is going on in practice and so you get a better view of organised crime and it's quite terrifying, what is going on," he says.
"I do not expect to see massive changes in our culture to cooperate with the UK"
He points to a recent case in Holland, in which criminals, who communicated via encrypted messages, converted shipping containers into torture chambers. He says this was a reminder of the violence used by the criminals.
The SOCTA paints a picture of launderers selling professionalised services and operating through a shadowy network with its own financing system that is hard to penetrate.
Mühl says this has been driven in part of tightening AML regulation in banks pushing criminals to look for alternatives.
"I always put this down to our success in preventing the official financial sector from being affected by money laundering, so this has caused a push for criminals to use underground channels instead," he says.
Mühl stresses that Europol still has much to learn about how these parallel systems of finance operate. But he says money brokers offer services to the criminals. Cash is collected and brought to the brokers, who are usually based outside the EU, and money is then transferred via underground informal value transfer systems across the globe.
"This system is obviously capable of handling significant amounts of proceeds from drugs trafficking and other crimes such as migrant smuggling, we have seen in the US that type of underground banking used for that purpose, we know that it exists but now we have more proof," says Mühl.
He adds that these tightly linked groups, using money brokers and trade-based money laundering networks are "very close-knit" and are not easy for law enforcement to infiltrate.
Mühl also says that more needs to be done to understand how cryptocurrencies are being used to launder money and this is an area Europol is "taking very seriously." He says: "Bitcoin I would say is less of a problem these days, Bitcoin currencies are better regulated but there are other currencies used that provide more anonymity."
When it comes to how law enforcement can go about tackling these tightly linked criminal communities, Mühl talks about the importance of co-operation across Europe.
"We have been working a lot in the EU to improve the system, to look at the possibilities of enforcing confiscation orders that were issued by one EU member state in another EU member state, " he says.
Mühl says the Europol Financial Intelligence public-private partnership, which brings together law enforcement with financial institutions, has illustrated the importance of collaboration between the public and private sector.
Elsewhere he talks about constraints posed by data protection legislation.
"We are not reaching the point where we can directly exchange operational information with the private sector, this is legally not possible because of data protection, but maybe sometime in the future it will be" he says.
And what about Brexit? The United Kingdom is no longer a member of Europol but it has signed an agreement co-operate and Mühl does not see this changing the relationship significantly.
"I do not expect to see massive changes in our culture to cooperate with the UK. The UK contributes information and can do that based on the arrangements that were taken between the EU and the UK so the information flow is still going to go on," Mühl says.
Faced with professional launders creating tight networks through technology and via the use of money service providers, the challenge to tackle financial crime in Europe has arguably never looked tougher.
Time will tell whether Mühl's vision of enhanced co-operation and information-sharing can begin to turn the tide. If it does the next Europol SOCTA in around four years' time may well tell a different story.
Burkhard Mühl is speaking at FinCrime's Pivotal Moment at 8.15am on 23 June at FinCrime World Forum