President, Women4Cyber North Macedonia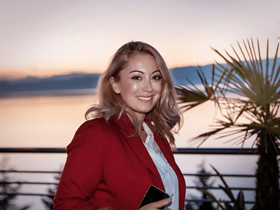 Ljubica Pendaroska is an award winner as CyberSecurity Top50 Women of Influence Europe 2019, Privacy & Data Protection Expert and international Keynote Speaker. She is Founder & President of Women4Cyber North Macedonia, which operates under the trademark of Women4Cyber Foundation Brussels, directly launched by European Cyber Security Organization.
Ljubica is committed to promoting profound women's participation in the complex cybersecurity challenges. Following that spirit, she grew up professionally with more than 12 years of experience in privacy and data protection and served in executive positions at several cybersecurity consultancies, as well as in telecommunication industry. In addition to her expertise role in UNICEF and in wide spectrum of EU and NATO programs, she is co-founder of Cyber-security, Corporate Security and Crisis Management Initiative Skopje, Member of Presidency of Euro-Atlantic Council, Program Director of Marshall Center Security Forum, Official Representative of the NATO Memorial Federation and Vice-President of the Adriatic Council. She served as Special Adviser to the Minister of Foreign Affairs for two years.
She holds the highest credentials in Privacy, as being Certified Information Privacy Professional/Europe – International Association of Privacy Professionals.