VP of Threat Intelligence, Egress
Jack Chapman joined Egress as part of their acquisition of Aquilai in June 2021. He co-founded Aquilai in 2018 and oversaw the development of its anti-phishing solution. Based on its technological excellence and vision, Aquilai was hand-selected by the National Cyber Security Centre (NCSC), the UK Government's intelligence and security agency, for its Accelerator program and benefitted from in-depth and strategic insights for product development.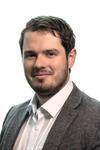 My Sessions
Insider Threats: If Prevention is Impossible, How Can Companies Avoid and Fortify?
26th January 2023, 15:00 - 15:45 GMT