General Counsel & Head, GRC, MFS Africa
Funmi is a Nigerian and British citizen, currently living in the UK. She is qualified to practice law in Nigeria and in England & Wales and is also a Chartered Secretary and/or a Chartered Governance Professional.
Having spent several years working out of Africa and from the United Kingdom, Funmi is a seasoned Senior Executive and Board Director, with extensive experience managing diverse global teams and complex functions in multi-jurisdictional organisations. She is a highly skilled corporate lawyer, GRC professional and Board Director, and she has gained significant experience across a multitude of jurisdictions and industries, including payment services, fintech, banking and financial services.
Funmi is passionate, self-motivated, and driven, and she has a proven track record of advising and supporting firms to grow and expand, with a particular emphasis on their governance, risk & compliance, regulatory and legal structures. Funmi is currently the General Counsel & Head, GRC at MFS Africa. She has Group responsibility for a portfolio of key functions, including the management of the Group's legal function; overseeing the Group's regulatory engagement and its portfolio of regulatory approvals; driving the design and approach to risk and compliance; shaping the organisation's engagement with Governmental and Developmental Organisations; and as the Group Company Secretary she is responsible for all governance related matters, including the Group's Data Management and Privacy framework.
Prior to MFS Africa, Funmi was the Head of Legal and Company Secretary at United Bank for Africa (UK) Limited, the UK banking subsidiary of United Bank of Africa Plc, one of the largest pan-African banks. And prior to her time at UBA. Funmi was a Senior Associate with Radix Legal & Consulting, where she was responsible for establishing, building, and managing the firm's Corporate & Commercial practice.
After having moved to the UK in 2008 to pursue an LL.M in International Corporate Governance and Financial Regulation at the University of Warwick, she joined Crowther Solicitors in London as an Associate.
Funmi started her career at Olaniwun Ajayi LP, one of Nigeria's leading law firms, where she cut her teeth working on large financing transactions and projects, before moving into the firm's Enterprise practice where she worked closely with and advising businesses on legal, strategic and governance matters. Funmi is a sought-after speaker and presenter and often speaks at industry events, on topics such as financial inclusion, mobile money, banking regulation, GRC related matters, and women in fintech.
Funmi was featured as one of Brummell Magazine's Inspirational Women of 2022. She was awarded the 2022 Distinguished Payments Professional award by EMEA Women in Payments, and she was recognised on the Innovate Finance 'Women in Fintech Powerlist 2021' in the category Policy Makers and Regulatory Experts.
In addition, Funmi was shortlisted for the 2022 UK Fintech Director of the Year award and for the Women, Influence & Power in Law UK award.
In 2021, Funmi was recognised as the Head of Governance of the year, by Women in Governance, Risk, and Compliance, and recognised as a Risk & Compliance Visionary as part of the Modern Governance 100 awards.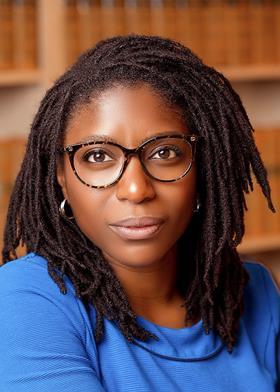 My Sessions
The Challenges and Opportunities of Cross-Border Compliance: Managing Risk in a Globalised World

25th January 2023, 10:00 - 10:45 GMT