Samrah Kazmi is an award winning Risk Executive and a globally ranked RegTech Influencer. As the Founder & CEO of RESRG, Inc., an Innovation Risk Advisory, she focuses on building organizational resilience for financial institutions and Fintech startups, through ESG and Cybersecurity programs.
Samrah has a proven track record of helping organizations navigate the risks of disruption, innovation and change. She was part of the elite Risk team that executed the merger of the New York Stock Exchange with InterContinental Exchange, as well as GE Capital's "Project Hubble", one of the largest corporate divestitures.
She has spent more than two decades in leadership roles at regulated financial institutions, fintech and SaaS companies and is the Co-founder & COO of Maiden Century, Inc., a fintech startup. She is also the Founder & CEO of Women in Sustainable Innovation, a global community elevating and supporting female founded ventures in Sustainability.
In addition to her background in economics and journalism, she holds certifications in Disruptive Strategy from Harvard, Digital Transformation from UC Berkeley, Fintech and Corporate Innovation from MIT. As a futurist and keynote speaker, she is widely sought after for her unique perspectives on the future of Innovation and Sustainability.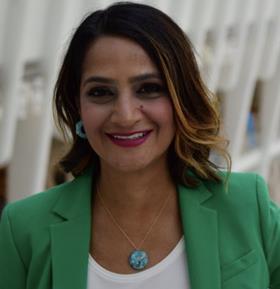 My Sessions
Greenwashing
9 March 2022, 18:00 - 18:45