EMEA Head of ESG, CBRE Investment Management
Robbie Epsom is the EMEA Head of ESG (Environmental, Social, and Governance) and is part of the ESG team led by Helen Gurfel , Global Head of Sustainability & Innovation. He is responsible for the EMEA implementation of CBRE Investment Management's Sustainability Vision, which continues the firm's commitment to be a leader in ESG. Working closely with the ESG team and the wider CBRE Investment Management team his priority is the continued integration and harmonisation of ESG practices throughout the business. He also leads the corporate sustainability reporting workstream.
Robbie joined the sustainability industry in 2009 and has experience in Sustainability and ESG Advisory Consulting. He is a Chartered Environmentalist (CEnv) and Fellow of the Institute of Corporate Responsibility & Sustainability (FICRS). Robbie joined CBRE Investment Management in January 2021 and is based in London. Prior to this Robbie worked as a consultant and supported a wide range of blue-chip companies and major infrastructure projects, as they navigated the fast-moving sustainable revolution, drawing on his background in process engineering to help them measure, communicate and manage their ESG risks. He is specialist in areas such as Corporate Sustainability Strategy & Reporting, Sustainability Materiality Assessments, ESG & Sustainable Finance, Greenhouse Gas (GHG) Management, United Nations Sustainable Development Goals (UN SDGs), Life Cycle Assessment (LCA), Environmental Product Declarations (EPDs), Resource/Energy Efficiency and Circular Economy.
Robbie has a MEng (Hons) degree in Chemical Engineering along with a Diploma in Industrial Studies from Loughborough University and is a Board Director for the Institute of Corporate Responsibility & Sustainability (ICRS).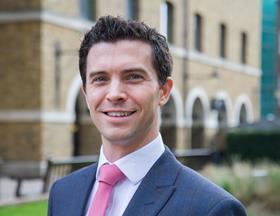 My Sessions
COP26: Climate trends and implications for companies
8 March 2022, 10:30 - 11:15