Our flagship event series #RISK is where the whole 'risk' community comes together to meet, debate, and learn, to break down silos and improve decision-making.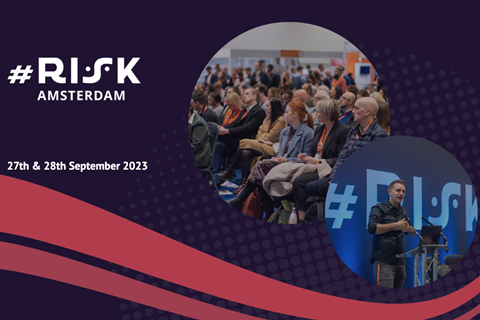 Technology is at the center of every core business process within modern organizations and #RISK Amsterdam is a content rich Expo centred around seven key themes:
#RISK Content Zones include Privacy & Data Protection, ESG, Security, Financial Crime, Fraud, Loss Prevention, and Governance, Risk and Compliance.
At the inaugural #RISK in November 2022 we discovered that our attendees were visiting as groups and even using the event as a meeting point to catch up with colleagues from different departments.
Our mission is to continue to build on the success of #RISK 2022 and provide a platform that allows organizations to address the cumulative nature of risk, unite disparate GRC specialties and create a compelling 'deep dive' agenda led by subject matter experts and thought leaders.
#RISK 2023 series
→ #RISK Amsterdam — 27th & 28th September 2023
→ #RISK London — 18th & 19th October 2023
→ #RISK Mena - 5 cities: December 2023
#RISK London 2022 Highlights Video

#RISK Amsterdam will address the big issues – Five theatres with insightful sessions, case studies, networking, high level thought leadership presentations and panel discussions.
PrivSec Theatre
Ransomware
TPRM
Practical aspects of handling data breaches
Cross-border data transfer issues
Diversity in PrivSec
New EU data laws
Cyber Threat Landscape
Changing Role of the CISO
Identity & Access Management
Cyber Attack Investigations
Cyber insurance and cloud risk management
Threat Detection and Response
Compliance Theatre
Reduce the overall total cost of compliance
Stay compliant with changing regulatory requirements
Encouraging compliant behaviors
Emerging cloud security regulations
Zero Trust standards and compliance requirements
Building A Business Case For GRC
Financial Fraud Theatre
Are We Winning the Fight Against Financial Crime?
Latest innovations in artificial intelligence
Future Fincrime challenges
Sanctions
Money mules and money laundering
Customer risk assessments
Finding the most effective technologies to fight financial crime
KYC Onboarding in a Hybrid World
Common patterns in identity fraud
What payments may look like in the Metaverse
Dealing with spiralling fraud costs
ESG Theatre
Ethics
Diversity
Sustainability
Procurement
Wellbeing
Corporate reporting
Making Data-Driven ESG Decisions
Plenary
Interconnected Risk
Geopolitical Risks
Reputational Risks
Risk & Resilience Management