Taking place at the ExCel, London 16th & 17th November will examine the changing risk landscape in a content rich, knowledge sharing environment.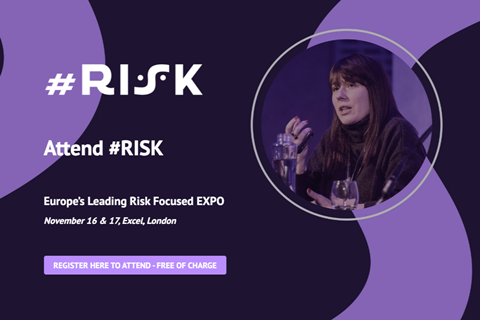 Today's business leaders must respond to more risks than ever before. After two rollercoaster years successful business leaders need to manage bigger risks, understand, and align business objectives with risk and compliance strategies and manage risk in this connected and everchanging world.
With an increasingly digital and regulated environment an effective risk-management program cannot operate in isolation from the business and today's business leaders must respond to more risks than ever before.
In a time of uncertainty, an effective integrated risk management function can allow businesses to drive faster and improve their operational resilience.

#RISK 2022: A two-day in-person expo
5,000+ Attendees
100+ Speakers
200+ Exhibitors
→ ExCel, LONDON: 16th & 17th November 2022
Attendees will learn and hear from some of the most influential industry voices as they address challenges including:
#RISK SECTOR FOCUS
Cyber-attacks
Data breaches
Extreme weather conditions
Employee wellbeing
Hybrid work environments
Emerging technologies
Digital transformation
Supply chain management
Damage to reputation
Diversity, equity, and inclusion
Fraud
Financial crime
Failure to attract or retain talent
Transition to net zero
Personal liability (D&O risk)
Interested in attending #RISK 2022?
With over 200 exhibitors, keynote presentations from experts and thought leaders, panel discussions and breakout sessions #RISK will be the largest gathering of its kind in Europe in 2022.
#RISK 2022 will focus on how a comprehensive GRC programme enables risk leaders, lines of business and the C-suite to mitigate risks, reduce compliance breaches and improve business performance.
Registration opens in May 2022, but you can sign up for early interest.
REGISTER FOR #RISK - FREE OF CHARGE
Interested In Exhibiting?
5,000 attendees over two days from public and private sector organisations of all sizes.
We have a proven track record in attracting senior business decision makers, key buyers, and influencers with an appetite for information and knowledge to protect and accelerate their organisations.
Our pre-qualified visitors are actively seeking solutions, looking to connect with suppliers and keep up to date with the latest innovations and technologies.