PrivSec China is a livestream experience welcoming senior professionals and experts to explore Chinese privacy and security law.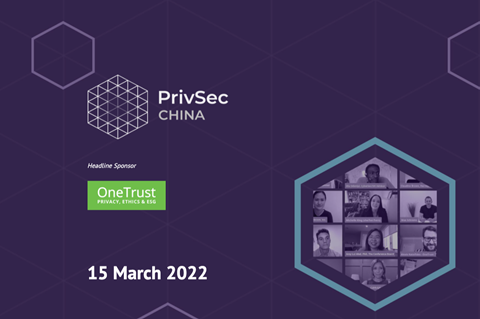 This all-day event, taking place on 15 March 2022, will feature presentations, panel discussions and keynotes, providing fascinating content and actionable insights.
China's data protection and security laws are growing increasingly vast and complex. For some companies these regulations present a barrier to entry into the Chinese market. But others will leverage their understanding of this complexity for a competitive advantage.
PrivSec China will help you develop your compliance strategy and learn to thrive in China's regulatory environment.
15 March 2022
30+ Speakers
1 Day
10+ Sessions
If you are an organization operating within China, PrivSec China is a must-attend. This one-day programme of sessions will deep dive into data protection, privacy and security issues which are relevant to help future-proof your business.
Benefits of attending:
• Access a curated agenda, deep-diving into local, regional and global challenges and opportunities
• Get up to speed on regional trends, technologies and topics that impact your business
• Have your questions answered by leading experts from within your region
• Discover fresh perspectives and understanding of how you can build competitive edge
• Hear the views, insights and analysis of subject matter experts, thought leaders and academics
• Improve your awareness of the regulatory and compliance landscape in China
And much more…
What will be covered:
Making Sense of China's Privacy and Security Laws
China's Personal Information Protection Law (PIPL): What Businesses Need to Know
International Data Transfers Under Chinese Law
Are You a Critical Information Infrastructure Operator?
LinkedIn and Yahoo Pulled Out of China. Will Your Business Survive China's Increasingly Tough Digital Regulations?
China's Network Data Security Regulations: Clarity at Last or Another Compliance Nightmare?
Doing Business In China: The Geopolitical Dimension