Max Schrems, renowned privacy rights activist and honorary chairperson of NOYB, will be giving an exclusive keynote for PrivSec World Forum at Digital Trust Europe in Dublin on Tuesday, 28th June. This timely session comes as:
Significant data breaches take place globally and in Ireland, such as the attack on the Irish health service in May 2021

Regulators across Europe crack down on non-compliant data transfers and violations of the "Schrems II" ruling

The European Commission and the US negotiate a new data transf.er framework—which Schrems says he will challenge "within weeks" of its taking effect

Pressure builds on the Irish Data Protection Commission (DPC) to get tougher on GDPR enforcement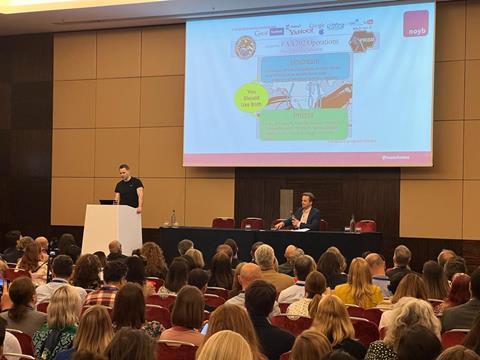 Few are better placed to comment on the future of online privacy, GDPR enforcement, and surveillance than Max Schrems, whose cases against Facebook have brought down two international data transfer frameworks and shaped digital policy across Europe.
Secure a complimentary VIP ticket to attend this session
Conflict with the EU fundamental right to privacy
Last week, Schrems spoke at PrivSec World Forum at Digital Trust Europe in London. Schrems discussed the "hate mail" he'd received following recent GDPR enforcement decisions and offered his perspective to those struggling with compliance. He also suggested that he would be challenging the new Trans Atlantic Data Privacy Framework (TADPF) "within weeks" of its taking effect.
Schrems gave a presentation looking at the origins of the EU-US "data transfer saga" and described the conflict between US surveillance law and the fundamental right to privacy in the EU.
Hear from Max in Dublin at Digital Trust Europe
On 28 June 2022, Schrems will appear at Digital Trust Europe in Dublin to deliver a presentation, interview, and audience Q&A. Schrems continues to fight for privacy, which he considers "the most unenforced right" in Europe.
Secure a complimentary VIP ticket to attend this session
Other presentations, panels and keynotes at Digital Trust Europe include:
Irish Data Protection Commission: Are Criticisms of "Big Tech's Regulator" Fair?

Breaking Down Barriers: How Data Protection and Security Teams Can Work Together

Consumer Trust and the GDPR's Transparency Requirements

How Big Tech Firms Can Prepare for the Digital Markets Act (DMA)

The Business Case for Integrating ESG

Sanctions Compliance: Building an Effective Program that Meets Regional, National and International Rules

The Future of Crypto Regulation

The Role of the Board: How ESG Contributes to Long-Term Success

Irish Council for Civil Liberties (ICCL); Facial Recognition Technology and Mass Surveillance

Data Protection Impact Assessments (DPIAs): Implementing a Target Operating Model
Speakers on the lineup include:
Daniel Coady, Data Protection Officer, RTE

Margaret Loughlin, Europe Data Privacy Protection Governance Officer, Citi

Gary Brown, Chief Privacy Officer, Westinghouse Electric Company

Eoin Fleming, Chief Information Officer, Carne Group

Fabrizio Venturelli, Senior Director and DPO, Global, Workday

Eoin Fahy, Head of Responsible Investment, Chief Economist, KBI Global Investors

Karl Rogers, Chief Investment Officer, Elkstone Private

Tomás Sercovich, CEO, Business In the Community Ireland

Debbie Mullarkey, Head of Financial Crime Compliance (MLRO)/Client Legal Affairs, Cantor Fitzgerald

Tanya Petruska, Crypto AML & Blockchain Investigator Advisor, The Cake Advisory

Philip O'Reilly, Professor of Financial Technologies and Information Systems, Cork University Business School
Secure a complimentary VIP ticket to attend this session
About Digital Trust Europe
Digital Trust Europe Dublin will co-host three events;
→ PrivSec World Forum
→ FinCrime World Forum
→ ESG World Forum
Security, financial crime, resilience, fraud, loss prevention, privacy, and data ethics are becoming increasingly intertwined in a digital and data-driven world. To innovate with speed and confidence, organisations need to address all the above with integrated solutions.
In today's digital world, organisations must prioritise trust, and a robust governance, risk and compliance framework is a critical component to building and maintaining trust.
Tue 28 Jun - Wed 29 Jun
Clayton Hotel Burlington Road, Dublin, D04 A318
Secure a complimentary VIP ticket to attend this session