The PICCASO Privacy Awards is delighted to reveal the inaugural cohort of shortlisted individuals, teams, initiatives, and businesses for the 2022 Awards, comprising 110 finalists across 15 categories.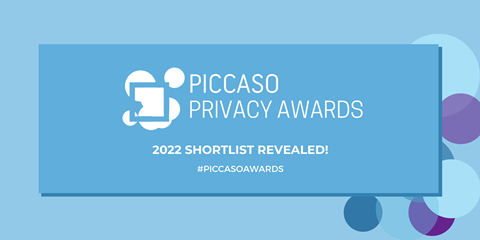 The shortlist, which includes those shortlisted for categories including Privacy Leader of the Year, Privacy Award for Achievement, Most Impactful Privacy Product of the Year, and more, will be announced at the JW Marriot Grosvenor House in London on December 8th, 2022.
Hosted by Julia Streets, and featuring keynotes from John Edwards, UK Information Commissioner, and a senior representative from the Department for Digital, Culture, Media and Sport, the evening promises to be a celebration like no other!
The PICCASO Privacy Awards will recognise the people and organisations making an outstanding contribution to this dynamic and fast-growing sector—from the professionals ensuring their companies meet increasingly complex privacy, legal and operational requirements, to the academics and engineers pushing privacy thought leadership and innovative protections forward.
Many of the country's leading privacy professionals and organisations have made it on to the shortlist, which will now be reviewed by an esteemed panel of judges, including Elizabeth Denham CBE, Gill Whitehead, Dr Lukasz Szpruch, Stewart Dresner, Bojana Bellamy, Nick Graham, Ashley Winton, and Joe Jones.
"Congratulations to all the short-listed nominees on their impressive achievements and dedication to advancing privacy innovation, thought leadership and practice to embed privacy by design into all aspects of our lives and work."

Vivienne Artz OBE, Deputy Chair of PICCASO
Best Educator
Michael Fortune, BT Group Plc
Michael Veale, University College London's Faculty of Laws
Joyce Allen, Freevacy Ltd
Jamal Ahmed, Privacy Pros Academy
James Leaton Gray, The Privacy Practice
Lilian Edwards, University of Newcastle
Alexis Galanis, OneTrust Data Guidance
Dr Vasileios Karagiannopoulos, University of Portsmouth
Best Innovative Privacy Project
Willy Duhen, King
Sherif Malak, Shoosmiths LLP
FTI Technology's Information Governance, Privacy & Security team, FTI Technology
Tracey Kerr, Glen Hymers, Angus Young, Jenny HIll, Peter Wilson & Nasreen Ayoob, Cabinet Office
CSI-COP project team, Coventry University
Nokia Data Marketplace, Nokia
Robert Baugh, Keepabl
Information Commissioner's Office (ICO)
John Dean & Fedelma Good, PwC UK
Best Privacy Culture Improvement Award
BT Legal Data Compliance & Assurance Team, BT Group Plc
Lidl's The Data Protection Team, Lidl GB
The Hyde Group Information Governance Team, The Hyde Group
IQEQ Group Privacy and Data Protection Team, IQEQ Group
Google
British Airways
RX Global
Best Privacy Programme Award
BT's Data Legal compliance and assurance (DLC&A), BT Group Plc
London Stock Exchange Group Privacy Office, London Stock Exchange Group (LSEG)
Smart Meter Code (SEC), Gemserv
Andy Hunter, Boundless by CSMA
Chris Frampton, Tata Consultancy Services Limited
Haroon Chughtai, Seers
Bridging the Privacy and Security Gap Award
Royal Mail Think Secure Programme, Royal Mail Group
Onur Korucu, Avanade
Rahul Bhardwaj, Kroll
Chris Frampton & Vikrant Ingle, Tata Consultancy Services Limited
Gareth Packham, Save the Children International
Susanne Bitter, Cyber Security Forum Initiative
Mark Andrew John Purkiss, UK Civil Service
ESG Privacy Initiative
SafePorter Secure Limited
Royal Mail Group
YouGov Plc
Walsall Metropolitan Borough Council
Allianz SE
HSBC
Most Impactful Privacy Product of the Year
3M UK Plc
Zivver
OneTrust
Exterro
BigID
Privacy Culture Ltd
DataGuard
IBM
Outstanding DPO
Evie Stenhouse, The Body Shop
Janine McKelvey, BT Group Plc
Fay Godfree, Siemens Healthineers
Tara Manton, Calligo (UK) Limited
Lesley Holmes, MHR International UK Ltd
Kate Lewis, GB Group Plc
Evan Davies, YouGov Plc
Linda Thielova, OneTrust Technology Limited
Matthew Kay, Metro Bank
Lisa Branco, Gartner
Privacy Award for Achievement
Fedelma Good, PwC UK
Rosemary Jay, Hunton Andrews Kurth LLP
Brad Bryant, Aon
Stewart Room, DWF
Ruth Boardman, Bird & Bird
Martin Jackson, Data Protection Manager, THG
Eduardo Ustaran, Hogan Lovells
Privacy Champion
John Deane, Link Group
Bill Mew, The Crisis Team
Robert Baugh, Keepabl
Tash Whitaker, Whitaker Solutions
Camilla Winlo, Gemserv
Simon Pillinger, Akrivia Health
Privacy Executive of the Year
Joao Barreiro, BeiGene
Rob Masson, The DPO Centre
Merilyne Davis, RX Global
James De Cor, ASOS.com
Samantha Simms, The Information Collective
Sunny Vara, CyberCy
Gary Brown, Westinghouse Electric Company
Robert Baugh, Keepabl
Privacy Team of the Year
BT Legal Data Compliance & Assurance Team, BT Group Plc
Cognizant Global Data Responsibility & Privacy Delivery Guild, Cognizant
Shoosmiths Privacy & Data Team, Shoosmiths LLP
The Data Privacy Group
BNY Mellon Global Privacy Office, BNY Mellon
Lidl GB Data Protection Team, Lidl GB
VMware Global Privacy Team, VMware
Information Governance Services
GB Group Plc
Calligo Privacy Team, Calligo
Privacy Writer/Author
Nader Henein, Gartner
Dr Paul Lambert, Author
Natasha Lomas, TechCrunch
Catherine Chapman, Writer
Joe Tidy, Writer
Carissa Véliz, University of Oxford
Rising Star Award
Rodica Cararus, S&P Global
Emma Godfree, iSTORM®
Liz Smith, BCS the Chartered Institute for IT
Olga Phillips, Salesforce
Louisa Resmerita, FTI Technology
Henry Davies, Likewize
Kathryn Brooks, Cambridge Education Group
Kyle Secker, ev dot energy Ltd
Privacy Leader of the Year: Technology
Ivana Bartoletti, Wipro
Dr Nathalie Moreno, Addleshaw Goddard
Fox Ahmed, BNP Paribas
Pal Vaczi, Invesco Ltd
Elizabeth Kiernan, ITV
Emerald de Leeuw-Goggin, Logitech
Gareth Davies, Oxford University Press
Privacy Leader of the Year: Public Sector
Lisa Wilson, SCS Joint venture for HS2
Ashantel Lachhani, The Hyde Group
Andrew Harvey, University Hospitals Sussex NHS Foundation Trust
Paul Withers, Walsall Metropolitan Borough Council
Glen Hymers, UK Cabinet Office
Angharad Jackson, Parliamentary and Health Service Ombudsman
Karim Hussain, Government Legal Department
Privacy Leader of the Year: Legal
Gareth Oldale, TLT
Katie Hewson, Stephenson Harwood LLP
Stewart Room, DWF
Rohan Massey, Ropes & Gray LLP
Eduardo Ustaran, Hogan Lovells
Puja Verma, Philips
Miriam Everett, Herbert Smith Freehills
Gerhard van Deventer, NatWest Group
Privacy Leader of the Year: Consulting
Sophie Chase-Borthwick, Calligo
Nina Bryant, FTI Technology
Jamal Ahmed, Kazient Privacy Experts
Hellen Beveridge, Cognizant
Richard Merrygold, iSTORM®
Nicole Diana, The National Trust
Privacy Leader of the Year: Academia
Dr Vasileios Karagiannopoulos, University of Portsmouth
Carissa Véliz, University of Oxford
Nigel Gooding, Plymouth Marjon University
Akbar Datoo, University of Surrey
Lilian Edwards, University of Newcastle
Markus Krebsz, University of Stirling
Prof Sandra Wachter, Oxford Internet Institute, University of Oxford