The PICCASO Privacy Awards is delighted to name data protection paralegal, Rodica Cararus as the winner of the Rising Star Award 2022.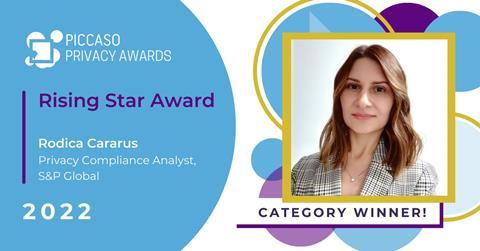 Our future privacy welfare depends largely on the privacy sector's rising stars. Whether in formal education, in employment or doing extraordinary research of their own, the winner of the PICCASO Privacy Awards Rising Star Award shows great promise with their technical or practical ability.
Rodica is data protection paralegal at S&P Global. In her role, she provides advice to information asset owners and works extensively with subject matter experts. More broadly, Rodica contributes to the interpretation of data protection legislation as it applies to companies' information and processing activities.
Prior to joining S&P Global in 2022, Rodica operated in privacy, compliance and data protection for organisations including, HIS Markit, Ashurst, John Menzies plc, and the Scottish Police Authority.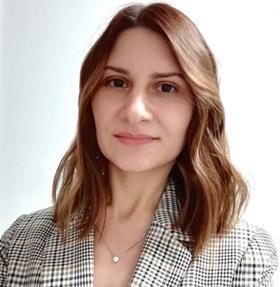 We spoke with Rodica for her response to the win and for her views on the data protection and privacy landscape of today.
Could you briefly outline your career pathway to date?
My story with privacy and data protection started when I registered in 2016 for an Internet Law and Policy LLM programme. Data protection was one of the courses of the programme.
The course was full of debates, discussions, and analyses that sparked my interest and intrigued me. I knew immediately that I wanted to be involved and grow within data protection. After successfully completing a Master's degree in Internet Law and Policy LLM at the University of Strathclyde, I undertook several data protection roles in both public and private sector. These were invaluable to me, helping me to see the application of data protection in different settings, and how versatile this field can be.
What does winning the PICCASO Privacy Award for Achievement mean to you?
The award was an absolutely unique experience for me; I felt elated! First and foremost, I felt it as a recognition that my work and contribution have impact and value. It also gives me confidence and motivates me to keep growing and playing my part as best as I can to support and advocate for privacy and data protection as an indispensable value for the society we live in.
Also, the award was an expression of the importance of being surrounded by good people and teams where the common effort is important for things to move and change.
What are the primary challenges coming up on the data protection & privacy horizon in your sector?
We can see that privacy and data protection are increasingly taking priority on the agenda of many governments, authorities, and organisations.
We constantly see new data protection bills and laws being introduced, debates and enforcements taking place around the world. Whilst at the same time, information and data are part and parcel of various innovations and developments.
The interesting part is to keep monitoring the growing privacy and data protection requirements across jurisdictions and ensure their correct application to your specific industry.
What do organisations need to prioritise within their data protection and privacy strategies in order to meet these challenges?
I have learned that this is a two-way road. On one hand, we need cooperation and communication with internal teams to understand the industry, the organisation itself and how and where data is processed.
On the other hand, it is important to ensure visibility and support for the privacy office across the organisation. Internal teams need to be able to reach out to the privacy office for guidance on legal requirements, and to gain advice on how to operationalize their implementations to a specific case.
Both cooperation and making the data protection in the context of the organisation's vision is important for any privacy strategy.
About Piccaso
The PICCASO Privacy Awards Europe recognise the people making an outstanding contribution to this
dynamic and fast-growing sector—from the professionals ensuring their companies meet increasingly complex legal demands to the academics and engineers pushing privacy thought leadership and innovative protections forward.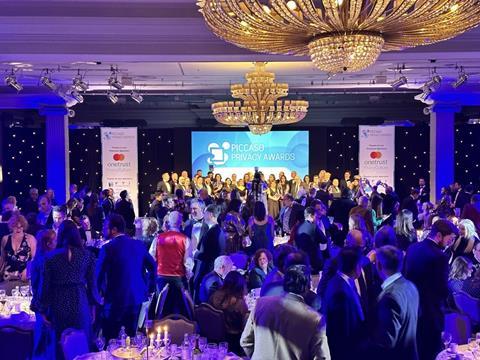 Enter The Awards
The PICCASO Privacy Awards Europe are free to enter, and you may enter as many categories as you would like.
Register for your free account.
Start your entry (you can save it in-progress).
Submit your entry!
Entries close: 02/07/2023 at 23:59.
Shortlist announcement: Week commencing 17/07/2023.
You will be notified via email should your application be successful.