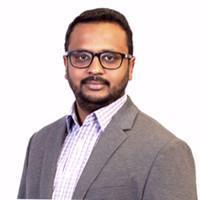 Prem leads the enterprise technology team at BCBSMA focused on digital, data & analytics and core transformation. Prem is an accomplished leader who excels at delivering business results through Technology and Process innovations. Prem has held a number of leadership roles including Head of Healthcare & General Manager at Perficient, VP of Technology at a Health plan, Head of Consulting and Chief Architect for Healthcare Practice at Perficient, Product Lead for innovative solutions and Program Director on high-value multiyear transformation programs. Prem is recognized as a healthcare industry expert, thought leader, and strategic adviser engaged on various areas of Healthcare including Consumer engagement, Bigdata, analytics, AI, Digital transformation, API and Cloud adoption.
Current Role
Company Name: Blue Cross Blue Shield of Massachusetts
Job Title: Chief Technology Officer
Start Date: June 2022
Company Industry: Hospital & Health Care
Location: Austin, Texas, United States
Voted as the highest in member satisfaction among Massachusetts commercial health plans by JD Power, Blue Cross Blue Shield of Massachusetts is a community-focused, tax-paying, not-for-profit health plan headquartered in Boston. We have been a market leader for over 80 years, and are consistently ranked among the nation's best health plans. Our daily efforts are dedicated to effectively serving our 2.8 million members, and consistently offering security, stability, and peace of mind to both our members and associates. As an employer, we are committed to investing in your development and providing the necessary resources to enable your success. We are dedicated to creating an inclusive and rewarding workplace that promotes excellence and provides opportunities for employees to forge their unique career path. We take pride in our diverse, community-centric, wellness-focused culture and believe every member of our team deserves to enjoy a positive work-life balance.
Previous Role:
Company Name: Blue Cross Blue Shield of Massachusetts
Job Title: Vice President, Core Transformation
Start Date: May 2020