Director and head of Investment Banking Technology Strategic Programs, Credit Suisse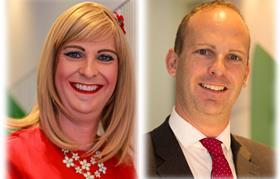 Along with her role as Director and head of Investment Banking Technology Strategic Programs, Pips is co-chair of the firm's LGBT & Ally Network which drives to encourage an inclusive work culture where all are encouraged to bring their whole self to work and to promote authenticity in the workplace regardless of gender identity, gender expression or sexuality.
Pips identifies as gender fluid and non-binary hence both identities within the Trans umbrella. She has always been open and out both personally and professionally. Being gender fluid, they choose to express as either female or male dependent on their preferred gender expression for a given day both at home or at work. Pips has been happily married to her wife for over 23 years and they have been blessed with 2 children who are now 24 and 21, all of whom embrace whatever opportunities possible to help promote the acceptance and celebration of diversity and inclusion in all aspects of life.
Pips was awarded a prestigious position in the OUTStanding, Involve and Yahoo Finance executive Leader list, featured in the HERoes Female Executives list, shortlisted for the European Diversity Awards and won the Inspirational Leader category as part of the British LGBT Awards.
She is also an active proponent for many of the firms diversity and inclusion activities, helps produce articles for CS to help inform allies of the importance of inclusivity in the workplace (including the Trans Q&A Guide and the LGBT Ally Program - Focus on Trans Video).
Pips also works with many mainstream media firms such as BBC, The Financial News, Parliament and the Governments Equalities Office to highlight the importance of Ally programs in progressing LGBT inclusion and on specialized publications such as this article on coming out as Gender Fluid in the Financial Markets or this BBC documentary talking about gender fluidity in the workplace. She presents to many groups on LGBT inclusion topics and is engaged with many external groups (including Stonewall, OutStanding, GiRes, P3 Proud Professional Parents etc.) and other affiliations focused on LGBT challenges and continually strives to improve the culture of the workplace for all.