Before a global audience, Australian lawyer John Scanlon today presented his experiences of the illegal wildlife trade, and explored how the illicit industry props up international financial crime.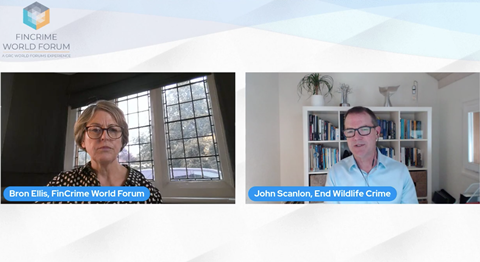 The potential link between the illegal wildlife trade and the spread of COVID-19 has focused attention once again on the trafficking and exploitation of wild animals, as well as plants.
Exotic animals can often bring incredible prices in illicit markets, and according to the UN, wildlife crime has become a "significant and specialised" form of transnational crime in its own right.
John said:
"Most wildlife crime is underpinned by corruption at all levels. There are about 150 countries implicated in WC and the illegal supply chains cross continents. Recognising the financial aspects of wildlife crime has been slow. We don't have good analysis and knowledge of illicit financial flows. We are starting to understand the illicit flows of finance but we're still very much in the early stages."
"We have such a wide spectrum of wildlife products that you can find that are being illicitly trafficked. After elephant ivory, you have products such as rhino horn, or penguin scales, or parts of tigers that are used in medicinal products. Timber can be illegally traded, a lot of fish is illegally taken, and it finds its way into restaurants and supermarkets. Consumers can be unaware that these things are illegally sourced."
"It's a broad and diverse range of products. Huge volumes of pets, from large cats to cacti are taken because people want a unique pet or specimen for their own."
Discussing enforcement action, John said:
"Some pretty hefty penalties have been handed out. In Malawi, for example, authorities cracked a syndicate of about 10 or 11 individuals who were successfully prosecuted and incarcerated for between one and 12 years. In China, penguin traffickers were put away for 14 years. In the US, Operation crash busted open a syndicate and collectively gave the criminals 50 years+ in jail. However, there are many more examples where there's been no investigation at all."
Describing what action needs to be taken, John said:
"We're still in the early stages of fighting wildlife crime. Industry leaders are on board but we need to pick up the pace. Governments are doing more to fight wildlife crime, but they're not doing enough. We can't do this just through governments. It has to come through a collective effort."
We need a global agreement on combatting illicit wildlife trafficking. What conduct should be criminalised? What are we going to do to engage with various sectors? What are we collectively trying to achieve? We need a strong and clear direction about where we're going with respect to inter-governmental process. Collaboration is key."
John Scanlon is among 70+ industry thought-leaders speaking at FinCrime World Forum, a livestreaming and on-demand experience that takes attendees to the heart of the financial crime landscape.
The theme continues at 6:10pm BST on Wednesday 23 June, with:
The Strength of the Pack - Partnerships to Tackle Illegal Wildlife, a conversation with David Fein, Chair, United for Wildlife Financial Taskforce.
FinCrime World Forum