The inaugural Fraud & Loss Prevention virtual event—a one-day live-stream experience bringing together thought leaders, experts and senior industry leaders to debate the latest issues surrounding fraud & loss prevention—took place on 8 December 2021.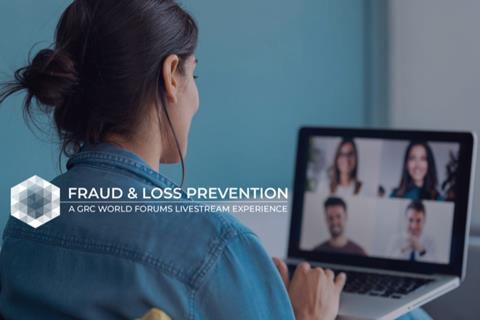 Fraud is fast becoming a crucial concern for multiple teams within organisations. The Fraud & Loss Prevention agenda centred around key issues in fraud, including the launching of new technologies, advances in machine learning, the role of biometrics, and how fraud and loss prevention can help future-proof businesses.
The day started with a panel hosted by Mike Haley, CEDO at Cifas, examining the latest trends and challenges in fraud and looking to the future of fraud and loss prevention in 2022 and beyond,
Panellists discussed how the coronavirus crisis has led to a rise in many different types of fraud. While some authorities are prepared to give leeway on certain risk mitigation activities, businesses need to ensure they remain alert to current and future risks to protect themselves and their customers.
Next came a pragmatic look at managing information in fraud investigations, hosted by a fantastic chair, Leigh-Anne Moore.
The panel considered how to discern whether a given act of suspected fraud was worth investigating. Panellists agreed that you should launch an investigation whenever you have a reasonable factual basis (RFB) to believe fraud has occurred—primarily because this means you can reasonably believe that a law, regulation or company policy has been violated.
The day's third session focused on managing know-your-customer/anti-money laundering (KYC/AML) compliance, hosted by Euan Grant, Customs, Tax & Border Control Consultant at Grant & Gutsell Consultants.
The panel agreed that organisations should be attentive to any recent developments and updates so that they are always prepared to meet their regulatory obligations—and can avoid hefty penalties and criminal investigations.
Then came a presentation by Oliver Stopnitzky, Senior Fraud Prevention Officer at the NHS Counter Fraud Authority. Stopnitzky gave an informative and well-received talk on how the NHS has built an accurate risk profile as part of its future-proofing strategy to help protect itself from fraud and loss.
Next, there was a session on implementing an effective sanctions compliance programme, hosted by Virginie O'Shea, Founder and CEO at Firebrand Research.
The session highlighted how constantly changing sanctions requirements demand up-to-date screening data, and that such data must be agile enough to align with an organisation's workflow.
Panellists also discussed how organisations need a reliable source of information that can be tailored to fit specific strategies and mitigate risk exposure.
Virginie also hosted the following panel, which took a deep dive into how behavioural analytics and machine learning can help combat fraud. Panellists agreed that applying machine learning techniques to fraud prevention in finance can be highly beneficial to oragnisations' modelling, analytics and governance efforts.
The penultimate session of the day was a panel on digital forensics hosted by Marius-Cristian Frunza of Schwarzthal Tech.
The discussion focused on how cloud computing, which, for all of its potential benefits, can present a challenge for forensics investigators. While the adage that the cloud is simply "someone else's computer" holds some truth—in reality, huge server farms host most cloud data.
The final panel of the day concerned the role of corporate governance and its role in fighting fraud, moderated by Sujata Dasgupta, Global Head of the Financial Crime Compliance Advisory at Tata Consultancy Services.
Contributors discussed how to set an appropriate tone at the top of an organisation. To help deter fraud, upper management could produce a document such as an ethics policy, mission statement, or employee handbook that reinforces the importance of ethical behaviour—and stresses that unethical behaviour will not be tolerated.
Overall, the day was an inspiring and energising exploration of fraud that went beyond frameworks and disclosures and got to the heart of what is really impacting organisations throughout the pandemic—and explored what lies on the horizon in 2022.
You can catch-up and watch all the sessions on-demand