Tune in Live and On-Demand
FinCrime World Forum 2021 will be presented in the comfort of your home or office. Virtually travel around the world and hear exclusive content from financial crime leaders in the UK, EU, US and APAC.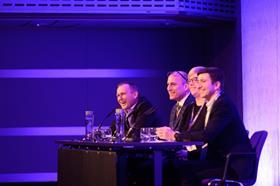 Deliver inspiring keynote speakers
Explore new technologies and platforms
Discuss the latest industry news and developments
Enable virtual networking without geographical barriers
Editorial and Research Driven
FinCrime World Forum will foster engaging and informative conversation on the following topics and more.
FinCrime after Brexit
Regulatory Focus
Resilient Risk Management
The Regulatory Unknown
Future Cyber Security Threats
RegTech Deep Dive
FinCrime Team of the Future
After the US Election
"FinCrime World Forum was a successful and enjoyable event. In these COVID times it gave the opportunity for professionals to meet and discuss topical issues, share ideas and concerns. It helps keep up with peers, competitors, challenges and trends." -

2020 Event Attendee