At FinCrime World Forum today, a panel of experts explored the ways in which greater experience and broader diversity of skill-sets can bolster organizational approaches to compliance and risk management.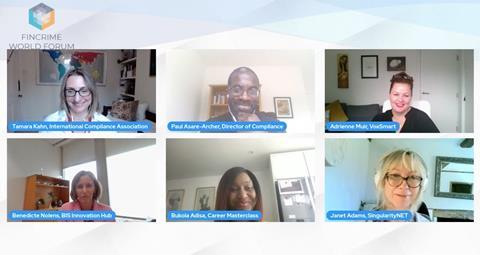 The debate took place against a compliance profession background characterised by middle-class men who have worked for decades in the financial sector, and who subsequently dominate top tiers of senior management.
While perhaps the depiction is not wholly fair, increasing numbers of women are developing sustainable and successful careers in the industry, as too are those coming from Black, Asian or Minority Ethnic (BAME) backgrounds.
The session, led by Tamara Kahn, Executive Director, International Compliance Association and Wilmington Plc, identified how firms can get the best out of people, whatever their backgrounds.
Tamara said: As leaders, we are role models. If you see something that's not right, have the courage to speak out about it.
Bénédicte Nolens, Head of BIS Innovation Hub, Hong Kong Centre, said:
Many traditional organisations are very hierarchical, and I don't think women are very good at climbing the ladder, so they may give up when they hit maternity.
In my leadership experience at Credit Suisse, we had great diversity below me, the problem was executive level. The only woman at that level was a back-office woman, not front-office. I think diversity in the powerful operations is very important. Also, at that time, the woman who got to the top tended to have no children, which is an even worse outcome in my view. I think look at the executive level and one or two layers below – if diversity isn't present there then more needs to be done.
Bukola Adisa, Founder, Career Masterclass, said:
"When we look at careers and compliance, there is an opportunity. In the compliance career path – it transcends so many aspects of life, you can be a compliance professional in any walk of life. Change is possible but it's not easy.
"We should all have equality of opportunities, and in speaking to organisations, we need to start looking at practices, policies and procedures, and look at how bias works. If we are just paying lip-service to this, it won't resonate as much as if you back up your intentionality with action. You have to want to do the hard work and change the environment in which we work."
Paul Asare-Archer, Director of Compliance, Telefónica UK Limited, said:
"This is such an important discussion. I listened more and realised that there are barriers for many people. I identified the challenges and reflected on how we as an organisation can attract a more diverse range of talent. Then I began to realise the roles we can all play, and that there is an issue that organisations need to address. We need to measure as organisations, on what the challenges are."
Adrienne Muir, Chief Operating Officer, VoxSmart, said:
"We need to be doing better. We have a responsibility to take steps and make things happen. We're all touched by these issues. For me it was about building a values-led organisation.
"This is about making sure that you're really making the change yourself, and you're not looking to others to do it for you. It's really important as a leader of a business to make sure that you're listening all the time.
"When I started VoxSmart, I looked at flexible working to accommodate mums. We looked at flexible working for everyone. We ensured that we were focussed not only on policy, but on humanity. I've chosen to do something different in the way I approach business. When it comes to hiring for diversity, we have to learn as we go.
"My advice to anyone in leadership who wants to make some form of change is to be brave, to listen and to challenge why policies are in place – are they doing what they should?"
Missed a session? No problem - all sessions will be available on demand on grcworldforums.com