Major brand representatives and industry leaders spoke at the first day of FinCrime Global, taking an international audience to the forefront of discussion on money laundering, fraud, people trafficking and many other issues defining the FinCrime landscape today.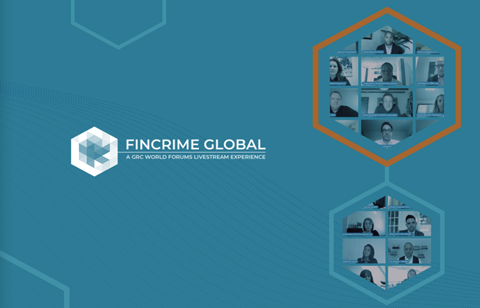 The morning sessions got underway with mapping exposure against new money laundering (ML), financial crime and tax evasion risks. Our panel of experts identified key learning points for compliance programmes before outlining how we can expect these issues to develop through 2022.
Richard Parlour, CEO, Financial Markets Law International, said:
"You've got to be careful if you go into the crypto world and play around with it, especially now law enforcement is really getting into it. Crypto is not just cryptocurrency; there's lots of assets around now, which is another reason to get onto some of the interesting courses that are around now and get some knowledge on crypto before you start.
Nicholas Ryder, Professor in Financial Crime, University of the West of England, said:
"The UK still doesn't have a fraud strategy, we were promised one by March but it doesn't fill me with confidence. Crypto isn't going anywhere, it's just going to get more important."
In consideration of what the focus should be for effective money laundering, Richard Parlour said:
"In measurements, if you look back at the history of money laundering, the original idea was restricted to drug trafficking offences. We've reduced the numbers of drug deaths and burglaries.

"In the early days on law enforcement, the idea was to infiltrate drug gangs, identify the money flows then go to financial institutions and get some help to prove all the transactions in the transaction chain. We were taking down some significant organisations," Parlour added.

"These days it's different – we seem to have given up the emphasis on law enforcement. Now the emphasis is on – rather than following the needle in the haystack – governments get financial institutions to blow the haystack to bits, and then look at finding the needle.
'We've moved from the basis of suspicion, to the basis of supposition and now it's really hard to open up a bank account for normal purposes. We have to make sure that the whole AML is brought back to sense. Measurement is a huge part of this. In the States, we're seeing a lot of data companies growing in a very short space of time. Data is becoming the new oil. Objective and Key Results (OKR) is now the methodology," Parlour continued.
Next up, FinCrime Global explored the essentials of an effective sanctions compliance programme with a view to keeping in line with regulatory policies across legislative environments.
Aimee Langley, Head of Compliance, Office of Financial Sanctions Implementation, said:
"Everyone is affected by sanctions. I think that in itself, sanctions effect a wide range of sectors. I really encourage companies to think about risks they face that might not be obvious. It's important to stay up to date and think about how your business is changing as emerging threats and risks will never be static."
Although monetary penalties [represents] the area that gets the most publicity, it's not the bulk of OFSI's work. I do think that it is important that financial sanctions are taken seriously by the government," Langley added.
Leigh T. Hansson, International Sanctions/Export Compliance Trade Partner, Reed Smith LLP London, said:
From my perspective, we've seen the compliance landscape undergo a significant change in the last few years. You need to be engaging with your counter parties, understand who you're dealing with; you can't just stick a name in a database and hope everything is going to be fine.
Some types of mistakes we see, concern not understanding the type of info a company had available before a particular transaction. You want to make sure you've got your compliance procedures and training in place," Hansson added.
Paul Munson, Head Of Compliance & MLRO, Solidi Crypto Currency Exchange, said:
"One size doesn't fit all when it comes to compliance. It's quite a lot of detail to go into, you can breach sanctions by taking on a counterpart, a breach is a breach. Sanctions is one of the most difficult areas of compliance in a firm I would say.

"It's best to instil good practises as you go along, training is key. Things still go wrong even if you do have robust measures in place but it's about doing the best you can.
Everybody has to be involved. A lot of people say it's compliance's problem, but it's not; it's everyone in the business's problem," Munson continued.
Leigh T. Hansson, International Sanctions/Export Compliance Trade Partner, Reed Smith LLP London, advised:
"I think take a proactive approach, understand where the risks are coming from. A lot of times compliance has been reactionary, the law comes out and then you have to deal with it. The ones who are dealing with this will be the ones that are way ahead when the regulators start to come down."
In the afternoon, FinCrime Global turned explored the moves towards sanctions for cyber corruption, election fraud, climate control and human rights evolution through 2022.
James Ford, Senior Associate, Mayer Brown International LLP, said:
I think the rise of thematic human rights sanction schemes is one of the areas in which the trade world and the compliance world have come together, I think it's a trend we will see more of.
Stacy Keen, Senior Associate, Pinsent Masons LLP, underlined how "sanctions have their greatest impact where there is a coordinated effort, before Francis Bond, Solicitor, Macfarlanes LLP, observed how the problem "is that targeting forensic smarter sanctions leads to its own issues. What starts off as targeted smart sanctions can get pretty stupid pretty quickly," Bond added.
"Why are we looking for sanctions to do all these things? Corruption, election fraud, climate control and human rights: People are looking for financial sanctions to solve these issues and we need to ask why," Bond continued.
James Ford, Senior Associate, Mayer Brown International LLP, said:
I think worth bearing in mind, definitions aside, you've also got to think of what regimes you need to be complying with as a matter of law or as a matter of contract.
Bond concluded:
When we're talking about things like cyber warfare, we're going to have to think of smarter ways of dealing with them and not just throwing sanctions at them every time. Sanctions at heart are the tool of politics. We talk about sanctions historically to change the behaviour of a state, we want them to act differently."
FinCrime Global's audience was then taken on a deep dive into how to effectively manage know-your-customer-anti-money-laundering (KYC-AML) compliance.
Business owners meet certain day-to-day responsibilities if the firm is covered by Money Laundering Regulations. These include carrying out 'customer due diligence' measures to check that your customers are who they say they are, and risk assessing your business.
Internal controls and monitoring systems must also be put in place. The nature of these controls will depend on the size and complexity of your business, including the number of customers you have and the number and type of products and services you provide. Experts at FinCrime Global looked closely at how these steps are put in place and what potential pitfalls may arise.
Adam Holden, CEO at NorthRow, said:
Compliance teams are feeling they're having to do a lot more and with a lot less resources, there's an enormous pressure on compliance teams. We often have conversations with people who are really struggling to understand the mega changes going on.
"The compliance environment for crypto companies is going to be very tough, hopefully they settle down but from the view of AML/compliance teams, but it seems to be it will be a few years before everything really settles down," Holden continued.
Paul Simmonds, CEO, The Global Identity Foundation, said:
"I really wouldn't want to be heading up a compliance team at the moment, the pressures they are under to bring together, it's got to be fast.

"The pandemic has brought into focus that we can't do this stuff face-to-face anymore. On the other side, you've got all the challenger banks coming through who are designing it to not to do it face-to-face.

"The bad guys know where to go to get the false docs that look genuine, and that's the problem. The bad guys are still getting away with it and all you are stopping is you and me," Simmonds continued.
Euan Grant, Customs, Tax & Border Control Consultant, Grant & Gutsell Consultants, said:
Most of my work since I left the UK customs service has been in the Soviet states. I have seen the serious failings in organisations like dankesbank etc., management at the very top and these go across into political issues, failing to understand the problem and drill down to look at it.
Concluding, Adam Holden said:
Compliance professionals are good at what they do and want to protect their organisations, things they can focus on would be what works for them. Whether it's the process they use today or technology, don't necessarily be concerned about macro elements in the short term.
Paul Simmonds added:
"You need to think about the whole: is this solution going to work consistently and then think about people outside of that like people with foreign passwords.

"You have to think about the big picture. We have been throwing stuff in because of the pandemic but now is the time to throw that out and put good ones in.
Euan Grant said:
Bottom up, reliability and simplicity, both of that rather than cutting edge, always have a plan B, and a plan C and regularly make sure there's external supervision not to catch people out. Compliance departments will make mistakes not necessarily because of wickedness and incompetence. Keep your ears open but no single group of people can do that, it takes team work.
Don't miss day two of FinCrime Global, where a fantastic line-up of sessions will unpack key themes such as crypto regulation, AML RegTech to protect business systems, tech realities amid the regulatory rhetoric, and much more.
Join the live debate and make sure you don't miss these sessions:
Digital Heists – Crypto Crime and Risks to the Financial Sector!
10:45 AM - 11:30 AM BST
The State of Crypto regulations 2022 and beyond focusing on the USA and Europe
11:30 AM - 12:00 PM BST
The interconnections between tax crimes and corruption
15:45 PM - 16:15 PM BST
Join us tomorrow, and be part of the one of the largest financial crime livestream events on the planet.
Missed a session? All the livestreams are available to watch on-demand now.