The insurance industry is having to adapt and change, incumbents are accelerating their digital transformation but disruptors have been finding a way in and business is at risk to innovators.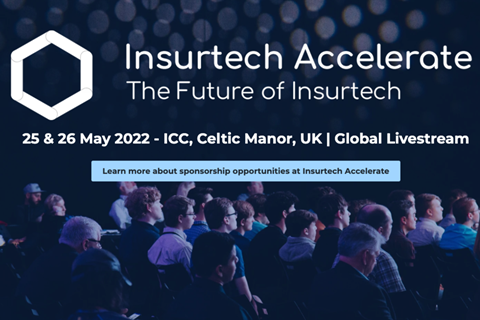 The Insurtech market continues to grow – according to CB Insights "Global insurtech funding is shattering previous records. In the first half of 2021, insurtechs raised $7.4B — surpassing the $7.1B raised for all of 2020 by more than $300M."
Insurtech Accelerate is a two day, must attend, think tank and knowledge sharing event about innovation, disruption and transformation.
In addition to the new kids on the block the insurance industry is also facing the following challenges.
Increased customer experience expectation
Regulatory changes and the costs of compliance
Legacy systems
Covid 19 losses
Heightened cyber risks
New market entrants
Data & AI opportunities
To innovate with speed and confidence, organisations need to address all the above with integrated solutions.
Insurtech Accelerate will attract an audience of senior insurance and financial services executives, start-ups, scale-ups, investors for two intense days of collaboration, networking and learning to prepare their organisations for the future and embrace the disruptive nature of Insurtech.
Find out more about Insurtech Accelerate
25 & 26 May 2022
2 Day In-Person Event
1000+ Delegates
100+ speakers
50+ sessions
Global Livestream
One-to-One Meetings
Networking Drinks
Insurtech Accelerate will also include 'meet the buyer' style events for VIP, invite only decision makers who will enjoy a mix of presentations, one-to-one meetings, breakfast, lunches, and dinners. In addition the event will be streamed globally via livestream.
Insurtech Accelerate will deliver up to the minute insights on:
AI powered automation
Customer experience in digital times
Cloud-enabled analytics and automation
Managing and leveraging data
Regulation & compliance
Security and risk management
Blockchain technology
Insurtech Accelerate will also provide the answers to questions the industry is asking including:
What can incumbent insurers learn from start-ups?
What can insurtech learn from learn from other sectors?
What can the sector learn from the pandemic?
Who is going to try to eat your lunch?
Digitisation, accelerated by Covid-19 has already impacted the insurance industry.
This event will look at the 'art of the possible' in a digital world.