As the threat and regulatory landscape continues to evolve, along with the acceleration in remote working and access to data, how do you protect your most prized assets, whilst growing innovatively and securely, and delivering a seamless customer experience?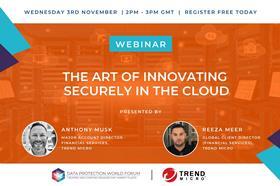 Webinar Summary
Wednesday 3rd November
Event Timings:
GMT: 2pm - 3pm
EDT: 10am - 11am

Shifting to the cloud is the best way ensure your business stays both current and competitive. With cloud adoption growing, the underlying infrastructure and services can grow to be quite complex.
We'll look at:
- Migration challenges in protecting business critical systems
- Helping you create a step-by-step plan to automate security, increase cross-platform visibility and build in defences across your cloud footprint from the start
- Ensuring the risks are understood, monitored, and secured continually.
We will provide 5 steps you can implement to ensure that cloud security doesn't become a distraction for DevOps and Security team
Meet the Speakers
Anthony Musk
Major Account Director - Financial Services, Trend Micro
Anthony has vast experience in assisting customers with their cyber security requirements. Knowledgeable in network, end point, mobile and cloud security, across many different industry verticals, with particular experience within the Financial, Insurance and Legal verticals.
Reeza Meer
Global Client Director (Financial Services), Trend Micro
With over 18 years in sales and proven success in the management of strategic enterprise and major accounts in the IT Security industry, Reeza's specialist focus areas include: Digital Transformation, Information Security, Cloud, Information Management & Cloud Infrastructure Management, AWS, Azure, GCP.