PrivSec Global is the largest data protection, privacy and security event on the planet, addressing the issues, challenges and opportunities globally.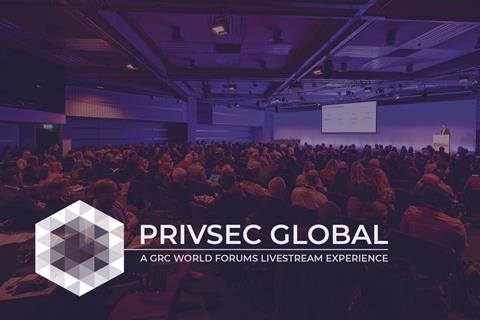 This livestream experience brings together subject matter experts, industry leaders and academics from around the world for 2 days of up-to-the-minute content, advice and guidance.

22-23 September 2021
2 Days
52+ Hours of Content
52+ Sessions
140+ Speakers
PrivSec Global September will keep you up to date with the latest developments, strategies and insights across data protection, privacy and security.
New Topics Include:
Ethics and Consent
From behavioural advertising to AI decision-making—privacy professionals grapple with some of the most important ethical questions of our age. Topics covered will include:
Marketing and ethical use of data
Ethical AI
Consent and GDPR
Environmental, Social and Corporate Governance
Data and technology play an increasingly critical role in government, society, and the environment. According to AlphaSense, "More than 1 in 4 dollars (or) of global AUM (Assets Under Management) is now managed under an ESG investment strategy. This focus on ESG includes corporations being held accountable for how they handle sensitive consumer data, specifically around their Data Privacy and Protection policies."
Topics covered will include:
Company's sustainable data use
Integrating privacy goals into business activities
ESG policy and Third Party Risk Management?
International Data Flows
Businesses seeking to transfer personal data out of the EU continue to face a lot of uncertainty. But is there any feasible solution available for an individual company—or is waiting in hope for a binding international privacy framework the only way forward?
Topics covered will include:
Key cases and decisions since Schrems II
"Onward transfers" from adequate countries
Recently published SCCs
AI Regulation
The proposed AI Regulation is a vast and ambitious law that attempts to both facilitate the use of AI across Europe and protect Europeans from its more harmful effects. Perhaps unsurprisingly, the proposal has been criticised both by those who argue it will stifle innovation—and by those who say it does not go far enough. Topics covered will include:
EU AI regulation and business
Stifling innovation or not going far enough?
Privacy risks in biometric identification
Digital Advertising
In recent years, online advertising has grown into a multi-billion dollar industry affecting every internet user. The targeted advertising market is worth billions—but it relies on collecting the personal data of millions of people, often without their consent; will consumer privacy benefit from the shift from targeting based on "first-party" data, and how can companies whose revenues depend on third-party data survive?
Topics covered will include:
Browser-level cookie opt-outs and "cookie paywalls" under the ePrivacy Regulation
Death of third-party cookies and digital advertising
Ensure compliance when collecting first-party data
Emerging Challenges in Cybersecurity
The Solarwinds hack was among the most significant cyber incidents of all time—and the full impact remains unknown; are governments taking cybercrime threats sufficiently seriously, and what's at stake when extortionists and state actors can shut down critical infrastructure and spy on government agencies?
Topics covered will include:
Emerging consequences of the Solarwinds attack
Biden's executive order and Third-party risk management
Threat detection and data breach notification thresholds
Global Data Protection and Privacy Law Developments
The "patchwork" of privacy legislation across the U.S. continues to—slowly—stitch itself together; but it's not just the U.S. where privacy law is advancing—there are important ongoing developments in many regions throughout 2021, including Canada, South Africa, and China.
Topics covered will include:
USA and a Federal Data Privacy Law
South Africa and POPIA enforcement?
China's Personal Information Protection Law (PIPL)
Innovation and Equity
Innovation can drive equity in privacy and security—but it can also contribute to inequality. So much of our technology is driven by users - we make things without knowing what they'll be used for, then let people play with them and define that for us; it has a massive impact on security, both because it means that people will effectively hack the software we make just by imagining a new use for it and because it speeds up the technology development lifecycle
Topics covered will include:
Pandemic-resulting WFH Revolution challenges
Facial Recognition in the 21st Century
Geofencing
Tune in Live and On-Demand
PrivSec Global offers two days of editorial driven content, alongside virtual networking and fireside chats, all delivered from the comfort of your own home or office.
Compare and learn from organisations in your industry or sector
Hear case studies from industry leading experts from around the globe
Gain up-to-the-minute knowledge, insight and advice
Access over 52 hours of content
Network with peers without geographical barriers
Be part of one of the largest data protection, privacy and security event communties
View the latest on demand content from PrivSec Global