Reader in Financial Technologies, Goldsmiths, University of London
Raju is a Reader in Financial Technologies from the Department of Computing, Goldsmiths, University of London. He had academic positions at University of Southampton (Southampton Business School) and University of Greenwich (Business School). Raju holds a PhD from LSE and prior to his studies at LSE, he received a PhD in Computer Science and MSc in Mechanical Engineering from Indian Institute of Science, Bangalore.
His research and consultancy activities are broadly in financial technologies, banking and finance, algorithmic trading, machine learning and big data analytics. His research aims to bridge the gap between technologies and the financial processes that are related to investment, risk management and regulatory aspects. Raju is actively working with startups related to FinTech and Data Analytics to design and build innovative solutions for investment analysis, algorithmic trading, 3D visual analytics, risk management, regulation and compliance.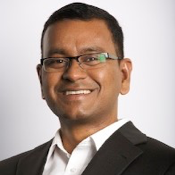 My Sessions
Assessing the RegTech Impact: Discussion of how regtech has so far impacted on the development of anti-financial crime, and whether it has improved efficiency or effectiveness more.
1 December 2021, 09:00 AM