Chief Information Security Officer & VP of Standards, HiTrust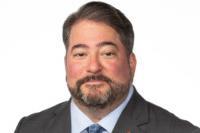 Jason Taule has spent his entire 30+ year career at the nexus of cyber and health. Beginning in intel, then in public, and eventually moving to the commercial sector, Taule has served as a Chief Security / Privacy Officer both within Government and at large integrators like GDIT and CSC. He helped build the original DARPA CERT, the first infosec programs at VA and NASA, directed a multi-million dollar global security practice for a large international consulting firm, led the OCR HIPAA complaint investigation team for 3 years, and spent the last 17 years first accrediting and then successfully keeping over 40 SAMHSA and CMS systems from compromise.
Jason Taule received his undergraduate degree in Business from the College of William & Mary and his Master of Science from Johns Hopkins. Taule is also a graduate of the FBI Citizen's Academy, is member of the Homeland Security Preparation & Response Team, the FBI Cyber Health Work Group, and previously served on both the Health IT Standards Committee and the President's Precision Medicine Initiative.
Taule has numerous certifications and is often cited in the media.
Jason Taule is currently VP of Standards and CISO for HITRUST, where his team ensures the continued relevancy and sufficiency of the HITRUST controls framework. He also oversees internal information assurance efforts maintain the confidence of customers and third parties who have entrusted HITRUST with the safekeeping of their data.
My Sessions
June 24, 2021 4:00 PM
Where Does a CISO's Role Go From Here?
Sudden digital transformation has put the role of the CISO in the spotlight with many in the cybersecurity industry suggesting that the title has become overused. Others may associate the role of the CISO as being innovation or cloud averse. This panel discusses what is next for the CISO as the role continues to adapt with the industry.