Each legal case or investigation has its own unique challenges, objectives, and goals. Experts must understand how to work with proven, advanced technologies to deliver a methodical and defensible data collection approach – regardless of whether it's for a forensic investigation or e-discovery matter.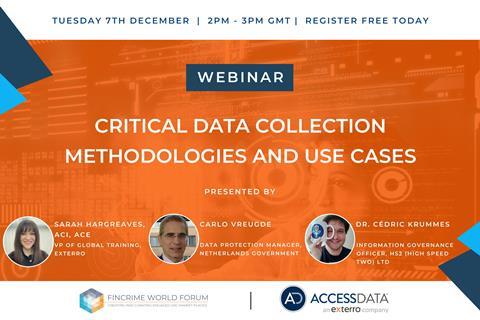 Webinar Summary:
Tuesday 7th December
Event Timings:
Join us for a discussion on the latest considerations and pain points when collecting data for both forensic investigations and e-discovery cases, with comparisons and differences discussed between the two.
Exterro will be joined by industry experts to explore:
· Similarities and differences between forensic and e-discovery data collection
· How data collection has/is changing
· Data collection best practices
· Technologies to help future proof your data collection practices
Meet the Speakers:
Sarah Hargreaves, ACI, ACE
VP of Global Training, Exterro
Sarah started her career in digital forensics in 2003. Previously working in a criminal law practice, Sarah moved over to forensics after working on a number of investigations which inspired her to change career path. Her journey continued with a number of roles in Digital Forensic Laboratories, primarily supporting law enforcement in Child Sexual Exploitation investigation and general crime. Sarah progressed to Laboratory Management and later into Training Management.
Sarah is experienced in digital investigation, laboratory management, ISO17025 and evidential process. Sarah lives in the North West of England and is a mum to two young children. She enjoys days out with her family and travelling.
Carlo Vreugde
Data Protection Manager, Netherlands Government
Carlo Vreugde, MA in Historical Information Technology. He is specialized in data project management and analyzing data for the local government. As a project leader, quality manager and lead auditor he used IT procedures to comply with quality standards and the law. He was invited as guest speaker on the topic of Social Welfare local data collection in Washington DC of the USA and in Copenhagen of Denmark at the Blaise Conference. With the use of special IT automated data collection methods, he got invited as guest speaker at the SPSS conference in Athens, Greece. The Australian bureau of statics made use of this IT automated data collection method. Through the combined experience of IT data and project management with quality control and privacy law he got into the GDPR. He helped local municipalities by implementing the GDPR in combination with data security throughout the Netherlands. He was Interim Data Protection Officer (DPO) and trainer at Dutch municipalities. He is now the DPO of the Municipality Pijnacker-Nootdorp where he works close with the Chief of Information Security (CISO). His focus is on collaborating these two mediums into one strong hold for the municipality.
Dr. Cédric Krummes
Information Governance Officer, HS2 (High Speed Two) Ltd
I'm from Luxembourg and have lived in England, Wales, Germany, and Scotland.
Data, Training, Words. I'm an educator in information governance. I translate technical knowledge for lay audiences. I'm an explainer, specialist, and implementer. I'm excellent at training people and I love linguistics.
Outside of my role at HS2, I am a mentor and reverse-mentor, I sit on our workplace forum, and I am involved in our access and inclusion staff network.
I have worked in the public, private, and non-profit sector; I have worked in higher and adult education, in fintech, infrastructure, the medical device industry, and the NHS.
Please come and say hi and let's swap East Asian recipes!